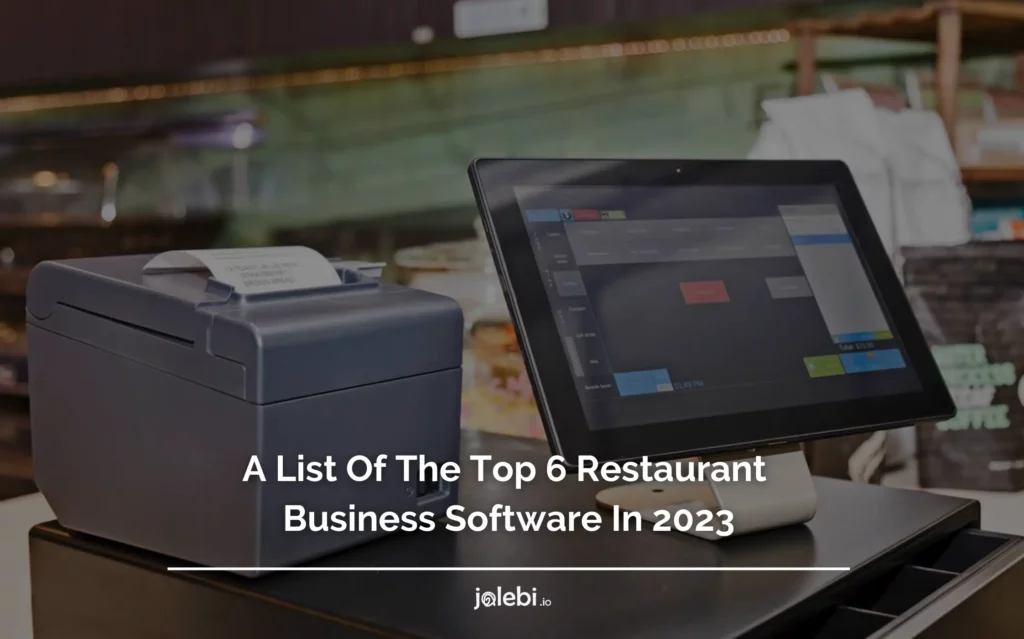 If you're a restaurant owner, you know that there's a lot that goes into running a successful business.
From keeping track of inventory to managing employee schedules, there's a lot to stay on top of.
That's not even taking into account the day-to-day tasks of actually cooking and serving food.
It can be a lot to handle, which is why many restaurants rely on restaurant business software to help them keep everything organized.
Without restaurant business software, restaurants have to rely on manual methods to track inventory, manage customers, and handle other essential tasks.
This can lead to errors and inefficiencies that cost the restaurant money.
Are you looking for software to manage your restaurant's operations?
In this blog post, we will share a list of the top 6 restaurant business software.
What Is A Restaurant Business Software?
A restaurant business software is a computer program that helps you manage your restaurant. It can do everything from help you keep track of your inventory to help you create a menu.
Good restaurant software will make your life easier and help you run your business more smoothly.
There are a lot of different software programs out there, so it's important to find one that is right for you and your business.
What Is The Importance Of Software For Restaurant Business?
There can be no doubt that software for business is increasingly important for restaurant businesses.
A restaurant's success depends on many factors, including the quality of its food, the efficiency of its service, and its ability to attract and retain customers.
In today's competitive environment, however, restaurants must also be able to effectively manage their operations and make use of the latest technology to survive and thrive.
Here are some of the benefits of using restaurant business software:
You can track your inventory levels and see what needs to be reordered at a glance. This saves you time and money by ensuring that you never run out of supplies.
You can keep track of customer information and preferences, which helps you provide better customer service.
You can manage employee schedules and information, making it easy to keep everyone on the same page.
You can generate reports on sales, customers, employees, and more, which gives you valuable insights into your business operations.
Overall, using software for restaurant business can save you a lot of time and headaches while helping you run your restaurant more efficiently and profitably.
Top Six Restaurant Operations Software
Are you looking for a way to manage your restaurant operations? Here are six restaurant operations software that can help streamline your business.
From point-of-sale systems to inventory management, these software programs can help you run your restaurant more efficiently.
1- jalebi
jalebi is a restaurant operations software that can help you streamline your restaurant business in no time.
By automating essential tasks like inventory management, order taking, and table reservations, jalebi can free up your staff to focus on providing an exceptional dining experience for your customers.
Features
With its comprehensive reporting features, you'll always have a clear picture of how your business is performing. Here's a list of some of Jalebi's features.
With jalebi's IMS, restaurants can integrate their inventory with the menu and track their inventory in real time.
jalebi is a data visualization tool that helps restaurant owners see their sales data in a new light.
With jalebi, you can easily spot trends and patterns in your sales data, which can help you make better decisions about your business.
With our insightful reporting, you can see how much each dish costs to make, as well as how much you're spending on ingredients overall.
At jalebi, we enable our customers to integrate their suppliers with our CRM.
This simplifies ordering and restocking for restaurants and streamlines supply chain management.
So if you're looking for a way to improve your restaurant's efficiency and bottom line, look no further than jalebi. Contact us today.
2- Toast
If you're looking for a top-notch restaurant software program, check out Toast.
Toast is another great option for small businesses, as it's affordable and easy to use while still offering robust features.
Features
Toast Go handheld POS
Self-ordering kiosk
Payment processing
It also has an excellent customer support and integrates with many popular POS systems. Plus, our user-friendly interface makes it easy for you to get up and running quickly.
So why wait? Get started with Toast today and see how it can help your business succeed!
3- Pixel Point
Pixel Point is a restaurant management software that you can use for your restaurant. This software is designed to help you manage your restaurant more efficiently and effectively.
Features
With Pixel Point, you can access the following features.
Track your inventory
Labor management
So if you're looking for software that can help you take your restaurant to the next level, then be sure to check out Pixel Point.
4- Micros Fidelio
If you're looking for a way to manage your restaurant operations, Micros Fidelio is one of the leading options in the market.
Features
It's a robust and reliable system that can help you streamline your workflow and keep track of your restaurant operations.
Micros Fidelio is also easy to use, so you won't have to spend hours training your staff on how to use it.
5- Partech
Partech is a restaurant management software that provides a suite of tools to help restaurant owners and managers manage their business operations.
Features
Point-of-sale systems
IMS
Employee scheduling and management
Customer relationship management
Reporting and analytics
Overall, Partech is a comprehensive restaurant management software solution that can help streamline operations and improve the overall efficiency and profitability of a restaurant.
6- Lightspeed
As a restaurant manager, you know that there are a million and one things to keep track of on a daily basis.
From keeping stock of inventory to making sure the books are balanced, it can be difficult to find time to focus on running your business effectively. This is where Lightspeed comes in.
Lightspeed is a restaurant management software that enables restaurants to manage their operations.
Features
Inventory management
Advanced reporting
Marketing and loyalty programs
Thus, Lightspeed is a software for restaurant business that has helped thousands of restaurants increase their efficiency and profitability.
How To Choose The Right Software For Your Restaurant?
When it comes to choosing the right restaurant business software, there are a few things you need to take into account.
First and foremost, you need to make sure that the software is compatible with your computer system.
You need to consider what type of features you need and whether the software has them.
Lastly, you should compare prices from different vendors before making your final decision.
By taking these factors into account, you can be sure that you'll find the right software for your restaurant business.
Final Thoughts
As we come to the end of the article, it's time to take a look back at the top 6 restaurant business software of the year.
These are the programs that have helped restaurant owners streamline their operations, improve customer service, and boost profits.
Frequently Asked Questions
Does KFC use a POS system?
KFC leverages Oracle's MICROS RES POS system to streamline its operations. It helps KFC to streamline its everyday restaurant operations and payments.
What are the four types of POS systems?
There are four types of POS systems: traditional, web-based, cloud-based, and mobile.
Traditional systems are the most common type, and they typically run on Windows or Mac OS X.
Web-based systems are hosted on a remote server and can be accessed from any computer with an Internet connection.
Cloud-based systems are similar to web-based POS systems, but they're hosted on a cloud server instead of a traditional server.
Mobile systems are designed to be used with smartphones and tablets.
Does a point-of-sale system accept cash?
Yes, a point-of-sale system does accept cash. In fact, many businesses prefer to use POS systems that accept cash because it is a more efficient way to track sales and manage inventory.
Cash is also an accepted form of payment at most businesses, so using a POS system that accepts cash can make it easier for customers to pay.
Can POS work offline?
This is a question that many businesses have, especially small businesses. The answer is yes and no.
If you have a modern POS system, then it likely has an offline mode that will allow you to continue using it even if your internet connection goes down.
However, if you have an older POS system, then it might not have this feature. In that case, you would need to use a backup system like a cash register.