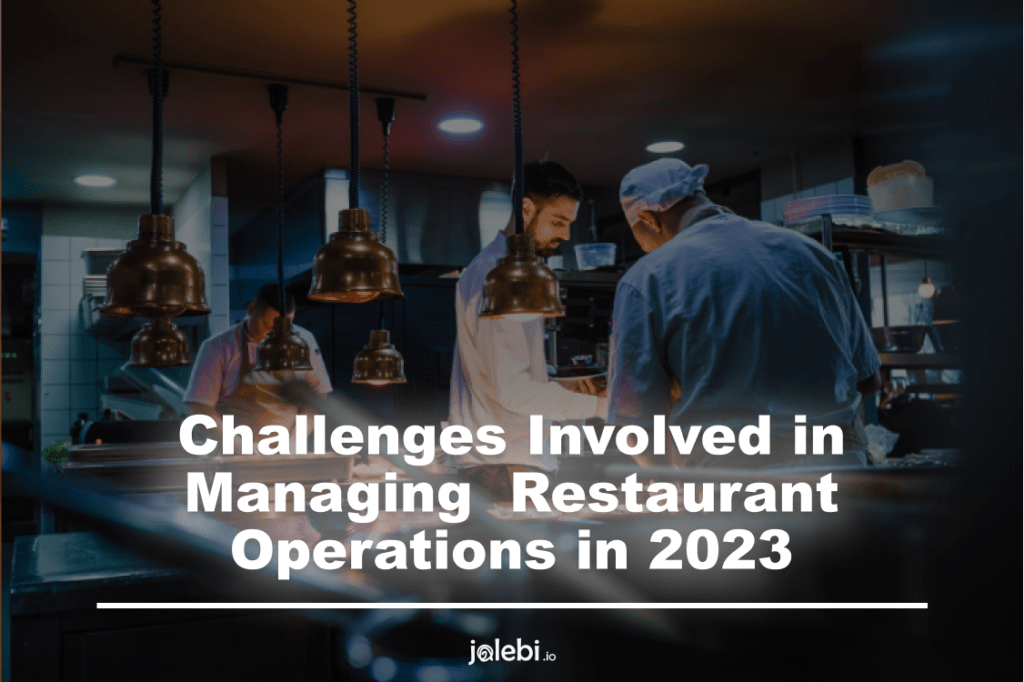 It goes without saying there are a number of challenges involved in managing a restaurant operation.
In addition to forecasting demand, managing inventory, orders, and customers, a restaurant has a lot of bases to cover. The challenges will increase as demand increases, and scalability is more likely. An end-to-end management system can help restaurant owners simplify their workflow.
Hence, jalebi.io's robust software is created to do the job. Together with restauratuers, it is created to optimize supply chain management, recipes, menus, and orders to reduce the cost of food service. 
The challenges involved in managing a restaurant operation are hard enough. Technology shouldn't have to be. So you do what you do best and let jalebi do back-of-the-house work. A system that operates seamlessly from inventory to integration to income.
Here's a quick walk-through of the challenges involved in managing a restaurant operation.
Top Restaurant Industry Challenges
1. Finding, training, and retaining staff
One of the major challenges involved in managing a restaurant operation is labor. A massive labor shortage is causing service industry workers to bounce from job to job. With a national unemployment rate of around 3.5%, service industry workers are maximizing their income.
With the disruption of the restaurant industry in 2020, it became increasingly difficult to hire, train, and retain high-quality staff. Restaurant industry employees were forced to leave due to reduced or unstable hours and general pressures caused by the pandemic.
By 2026, the restaurant industry will need around 150,000 more cooks, according to the Bureau of Labor Statistics. 
As the labor market shifts, hiring and training staff who will remain with your company for the long haul is more important. The goal of a restaurant is obviously to retain its people. Churn not only affects profitability but is also detrimental to its culture.
It's important to offer a culture that's more attractive to employees than your competitors. In the hospitality industry, staff turnover is common, but it's also costly. More than ever, it's crucial to attract and retain qualified candidates.
While hiring, keep retention in mind to ensure that the employees you hire will help you achieve your business goals.
2. Rotating inventory management
It is inevitable for a restaurant to experience some food loss or waste. A dish may burn in the kitchen, or a customer may return his order. However, restaurant owners can use strategies to minimize food waste. This is called restaurant inventory control or management. It involves many moving parts, and ingredients' cost can be one of the biggest challenge in managing a restaurant operation.
Inventory management is critical when you're adapting to different sales numbers or providing off-premise dining. Delivery, takeout, and curbside dining all require a focused inventory strategy to reduce food costs.
It is important to understand the terminology to set up an effective inventory management system. As with anything else, certain terms are frequently used in inventory tracking, such as:
A restaurant's cost of goods sold (COGS) is the price of its stock used to produce its food and drinks.
The value of sitting inventory or the amount of stock on hand.
The food cost percentage is the cost of the inventory required to make a particular dish divided by its menu price.
Your par level is the amount of stock you must hold to meet your customers' demands without wasting too much.
The estimated usage of an item is calculated by dividing the sitting inventory by the average usage over a certain period of time.
Variance is the difference between the theoretical or estimated use of inventory and the actual use.
Take the time to familiarize yourself with these terms to implement a more effective inventory management system for your restaurant.
And just when you're quite familiar with the lingo, have a look at how inventory management software such as jalebi.io can help.
Ensure you never run out of a product by keeping track of all warehouse locations and across all inventory cycle stages (physical stock on hand, stock requested from suppliers, and stock booked in open orders).
Using consumption data, you can forecast demand and prevent over and understocking and process orders more efficiently and quickly, saving you time and money simultaneously.
3. Planning and maintaining profitable menu prices
2020 is likely the year your menu had to be adjusted if your restaurant pivoted to off-premise channels like takeout and delivery. In planning for any additional menu changes, it is important to ensure that menu items can stand up to delivery and takeout while meeting customer demand.
Your menu should also allow for a lean inventory, which minimizes food waste, in light of shifting sales numbers. If you use ingredients in multiple recipes, you can reduce the number of items in your inventory and focus on rotating ingredients more quickly.
A menu's final challenge is balancing profitability and popularity. Using menu engineering tools in restaurant operations software, restaurant owners can visualize trends in their menu items, take advantage of new opportunities, and make necessary changes. When combined with location or period sales data, sales forecasts can be used to inform menu engineering decisions.
With data provided by your point of sale, you will be able to understand the performance of your menu when it's time to update it. Most POS systems have reports that show how many items you sold over a period of time. To redesign your menu and understand what works and what doesn't, you need to get tangible insights that you can act on.
4. Demand Forecasting
Demand forecasting stands among the most crucial element in the challenges involved in managing a restaurant operation.
Companies can suffer a loss of revenue when they don't have accurate records of their stock levels at the right time. Raw materials and ingredients costs can be reduced if demand forecasts are accurate. Overordering, over portioning, and food waste not tracked during recipe creation and execution all contribute to revenue loss.
During festivals, restaurants and food outlets must prepare for the surge in consumer demand. Software or an application can help restaurant owners forecast seasonal demand and market trends, triggering timely alerts for low stock levels.
Business owners can monitor all menus to see which items are the most popular and which are the least popular. Plotting the relative popularity and demand of menu items against their profitability can reveal where cost savings can be made.
Business owners must implement technology that tracks and analyzes purchasing data in correlation with sales to calculate a restaurant's purchasing needs better. A restaurant's stocking needs can be accurately predicted with the help of these insights.
5. Managing stock in multiple branches
Many franchise restaurants have outlets in multiple locations or have multiple warehouses. Sometimes, these branches do not communicate with one another. This makes it easy to overlook warehouse issues other than the one you are focused on or the nearest one.
Having inventory spread across several locations makes it crucial to know how many items are at each location. If you don't know how much inventory each location has, you could order too much or too little.
If, for example, one branch has surplus milk but another has a shortage, then one branch can spend more money on milk. The other wastes are a result of a lack of alignment and coordination. Restaurant budgets are affected by non-communication among each other.
By integrating with your suppliers, you can see information about price, availability, lead times, and backorders from within your ERP system. This streamlines the ordering process.
Your suppliers can use the system to determine when your inventory levels drop, so they know when you'll need more products. When you place your order, your supplier will be more likely to have what you need right away.
6. Dish profitability analysis and calculation
"We lose money on each transaction, but we make it up in volume." An old joke, but it underscores how important it is to know the profit margin of each menu item to ensure overall profitability.
Keeping menu-mix information up-to-date can be challenging in multi-unit, multi-region restaurant chains with shifting costs, menu items, selling prices, and frequent LTOs. 
Menus must have correctly prices food items. It is a costly process that requires trial and error. It is hard to figure out its profitability without knowing the exact ingredients used and the demand for the dish. The pre-costing of the menu refers to determining the cost of producing each item in ideal conditions. 
Cooks follow instructions, portions are accurately measured, and all portions are sold. These are the optimum costs; in reality, they could be higher.
Using recipe and menu engineering software in restaurant back-office systems makes it easier to calculate profit margins and model the effects of changes in selling prices, costs, and ingredients.
These tools provide operators with information about your menu items' ingredients and their costs (by region, if applicable) so that they can:
Calculate the selling price necessary to achieve a specified cost of goods (e.g., 24%) based on a given recipe.
Calculate the cost of goods and profit margin for a recipe by specifying the desired selling price.
If you change the number of ingredients or substitute one ingredient for another, the tool will calculate a new cost of goods and profit margin for you.
7. Digital touchpoints of your business
The demand for social media engagement has driven restaurants to post and share like never before. Restaurants use Facebook and Instagram as their main social media platforms to market their brands, and some take advantage of paid ads to reach even more people.
With paid promotions, your restaurant can gain an edge in a variety of ways. Starting from social media advertising, community events, sponsorships, and search engine ads. Using a person's location, you can advertise your restaurant to them when they are within five miles through social media. With brand-specific advertising, your restaurant isseen by people who haven't subscribed to your channel or interacted with it before.
As for sponsorships and community events, they typically target your neighbors. Although this may be a smaller pool of consumers, you can increase your restaurant's brand awareness by focusing locally and beyond.
Conclusion
The challenges of restaurant business have a lot of ups and downs. While you'll celebrate many milestones and successes, you'll also have to overcome various problems. How can you overcome these while keeping your restaurant afloat? jalebi.io can help.
Join the beta launch and learn how jalebi.io is revolutionizing food technology to help you and many others in this incredibly tough industry!
Try jalebi.io FREE For 90 days
Get your demo booked now to get onboarded