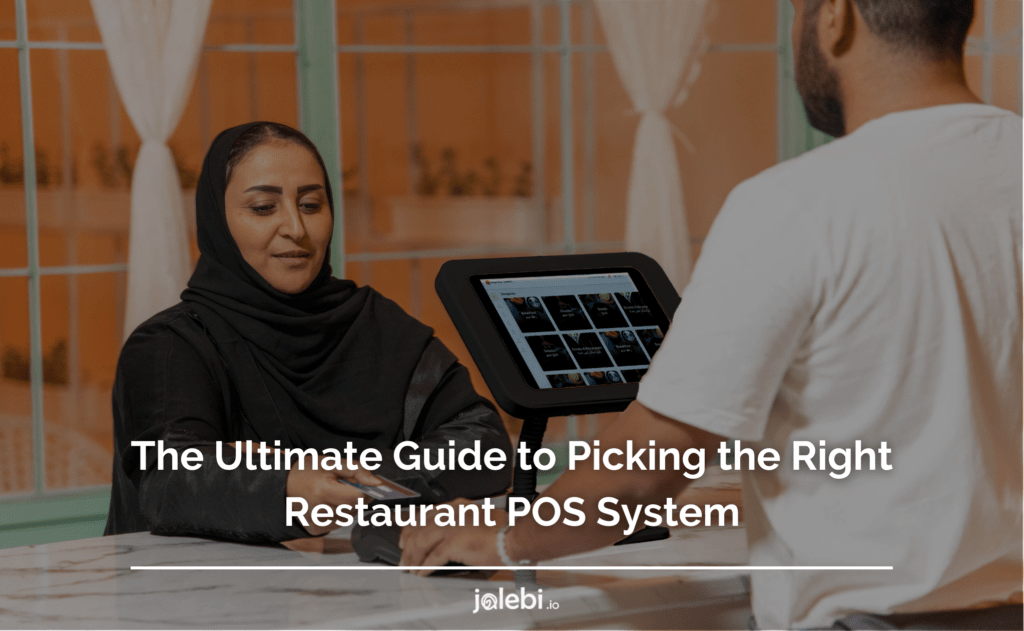 If you're in the market for a POS restaurant system, you're likely feeling overwhelmed by all your options for different POS systems for restaurants . There are so many different features and functions to consider, not to mention the various pricing plans and providers for different POS systems for restaurants .
Are you looking for a best POS system for restaurant? Do you know what is POS system for restaurant and how does a restaurant POS system work? If so, you're probably wondering which system is right for your business.
How can you be sure you're making the right decision where there are so many different POS systems for restaurants?
The good news is that there is no perfect POS restaurant system for every business.
The key is to carefully assess your needs and choose a system that fits your unique situation.
In this guide, we'll walk you through different POS systems for restaurants and show you how to find the best option for your restaurant. Let's get started!
How Does A Restaurant POS System Work?
The question of "How does a restaurant POS system work?" is quite relevant, given the digital transformation in the restaurant industry.
A Restaurant POS (Point of Sale) system is a software and hardware solution that facilitates and streamlines the operations of restaurants.
Order Processing
One of the primary functions is to assist with order processing.
When a customer places an order, whether at the table or the counter, the order details are entered into the POS system.
Then, the kitchen receives clear and timely communication about what needs to be prepared.
Payment Processing
Answering "How does a restaurant POS system work?" would be incomplete without discussing payment processing.
The POS system allows customers to pay for their meals using various methods such as cash, credit/debit cards, and even mobile payments to process these transactions securely and efficiently.
Inventory Management
Today, many POS systems come with integrated inventory management to facilitate restaurant owners who want to learn how to use POS system in restaurants.
Every time a dish is ordered, the system subtracts the used ingredients from the inventory, giving real-time updates about stock levels to help restaurants manage their supplies and avoid wastage or shortages.
Employee Management
Wondering how to use POS system in restaurant for employee management?
These systems also streamline employee management by tracking work hours, shifts, and even sales performance.
It provides valuable insights for restaurant owners and managers to evaluate and optimise staffing requirements.
Reporting and Analytics
Another core function that answers the query of "How does a restaurant POS system work?" is its ability to generate reports and analytics.
So, if you want to learn how to use POS system in restaurant for maximum benefits, remember that restaurant owners can gain insights into their best-selling dishes, peak business hours, customer preferences, and more.
The data is crucial for making informed decisions to improve business operations and customer experience.
What Is EPOS Software For Takeaway?
EPOS software for takeaway is an electronic POS software personalised to meet the requirements of restaurants that offer takeaway services.
Just like the conventional EPOS systems manage sales and inventory for retail and dining-in restaurants, the EPOS software for takeaway streamlines receiving, processing, and fulfilling takeaway orders.
The EPOS software for takeaway helps restaurants to manage a high volume of orders efficiently.
Given the quick turnaround expected in takeaway orders, it ensures that orders are promptly transferred to the kitchen staff to minimise customer wait times.
The software facilitates easy integration with online ordering platforms, allowing customers to place orders remotely, which are then directly fed into the system.
Furthermore, EPOS software for takeaway often comes equipped with advanced payment processing capabilities.
Given the nature of takeaway services, there's a need for fast and secure payment methods, including credit/debit cards, mobile payments, or online transactions.
The software ensures that payments are processed swiftly, reducing queues and enhancing the customer experience.
Thus, the EPOS software for takeaway is an efficient tool for takeaway restaurants, designed to handle the fast-paced nature of their operations.
Benefits Of Restaurant POS System In 2023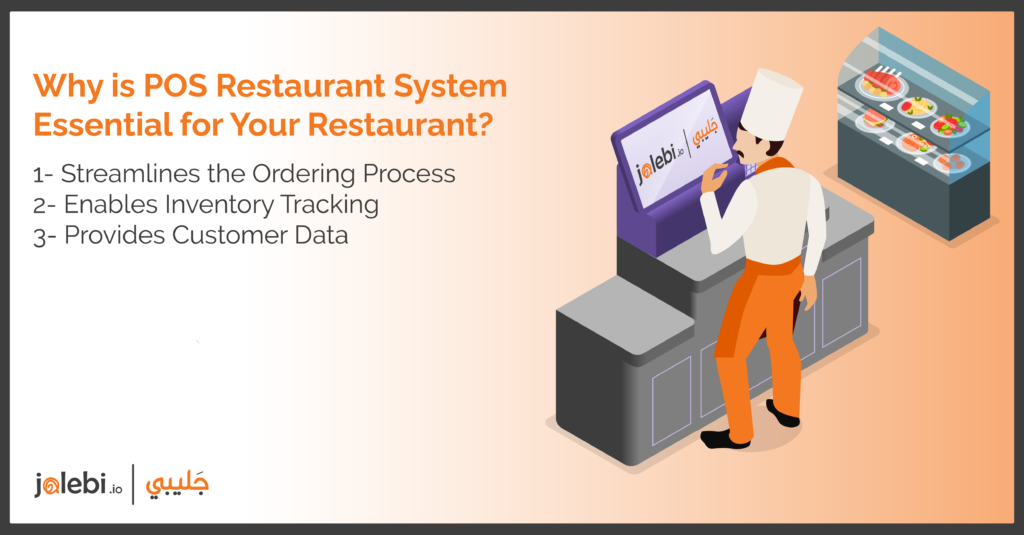 POS system in restaurants is necessary for any restaurant that wants to be successful. Here are three reasons why.
Here are three benefits of restaurant POS systems that show why having one is essential in 2023.
1. Streamlines the Ordering Process
Choosing a restaurant POS system helps to streamline the ordering process which is one of the main benefits of restaurant POS systems.
Orders placed by customers are instantly relayed to the kitchen, eliminating the need for staff to physically deliver order tickets, which minimizes miscommunication and human errors.
The system can also keep track of complex orders and special dietary requests, ensuring that customer requirements are accurately met.
Furthermore, a different POS systems for restaurants allows for quick adjustments or additions to orders, further improving efficiency and accuracy.
Consequently, the service becomes faster and smoother, enhancing the customer experience and potentially increasing table turnover rates.
2. Enables Inventory Tracking
A POS system for restaurants can help to follow inventory levels.
Knowing exactly how much of each ingredient is on hand at any given moment is critical in the restaurant business.
It prevents scenarios where certain dishes cannot be prepared due to lack of ingredients, a situation that could lead to customer dissatisfaction.
Additionally, with the system tracking which items are selling well, it aids in making informed decisions about what to order and when, reducing waste and saving money.
This feature also helps in menu planning, allowing restaurants to focus on dishes that use ingredients that are in stock, reducing spoilage and optimizing ingredient usage.
3. Provides Customer Data
Another benefit of restaurant POS systems is that it can help to provide customer data.
This data includes information about purchasing behaviors, most popular dishes, peak hours, and even customer preferences and allergies if recorded.
With this data, restaurants can tailor their services to meet their customers' specific needs and preferences, leading to increased customer satisfaction and loyalty.
For example, they can remove underperforming dishes from the menu or offer targeted promotions based on popular items or during slow business hours.
Also, data about returning customers can be used to create personalized marketing campaigns or loyalty programs, further enhancing customer relations and boosting business.
In short, the benefits of restaurant POS systems show that they are necessary for any business that wants to operate efficiently and effectively.
Any restaurant that does not have a POS system is at a disadvantage compared to those that do.
The Guide to Choosing the Right POS Restaurant System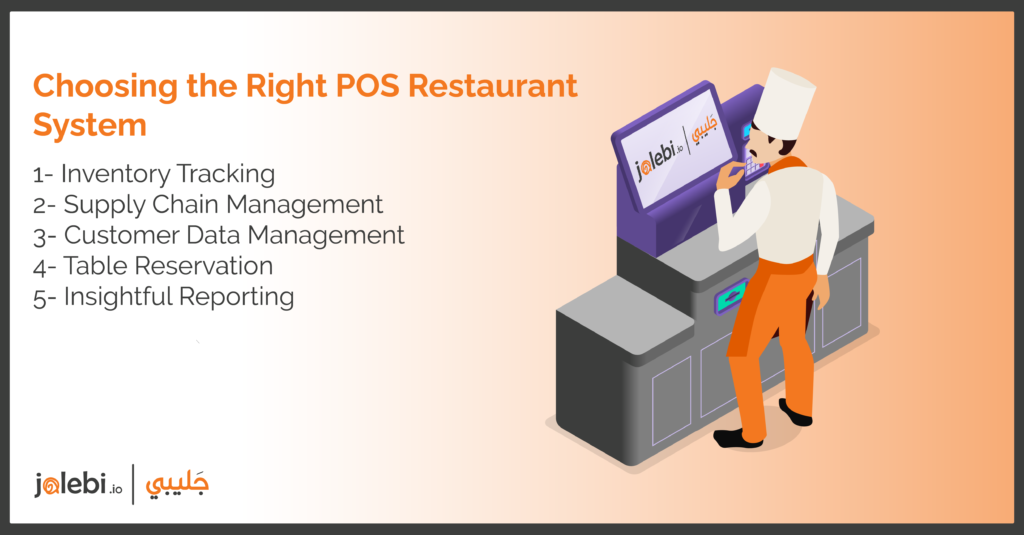 Choosing the best POS system for your restaurant can be a daunting task. With so many options on the market, it's essential to take the time to find the one that best suits your needs.
What are some of the most important things to consider before buying a POS system in 2023?
When searching for a POS system, remember the following factors to make the right decision.
Inventory Tracking
When looking for things to consider before you buy a POS system, look for one that includes inventory tracking. This feature will save you time and money by helping you to keep track of your stock levels and avoid overordering.
It can also help you to control your costs by allowing you to track how much of each product you're using and identify any areas where you may be overspending. Some restaurant POS systems can also offer recipe costing, which can help you ensure that you price the dishes appropriately.
In addition, by having real-time information on your inventory levels, you can more effectively manage your food cost and ensure that your menus are updated with the freshest ingredients. Ultimately, a restaurant POS system with inventory tracking will help you to run a more efficient and profitable business.
Supply Chain Management
When running a successful restaurant, there are many factors to consider. Finding a POS system that meets all your needs is one of the most important. While there are many different features to consider, one of the most important is supply chain management.
A sound POS system will ensure you always have the supplies you need on hand. It will also allow you to track orders and monitor vendors to ensure you get the best possible prices.
A POS system with supply chain management can save you time and money, so it is worth considering when choosing a POS system for your restaurant.
Customer Data Management
Choose a POS system with a strong customer data management feature. A good customer management system will help you keep track of your customers' orders, preferences, and contact information. This will allow you to provide better customer service and build loyalty. In addition, a good customer management system will also help you manage your data more efficiently.
With all of your customers' information in one place, you'll be able to generate reports and make better decisions about your business quickly. So It could make all the difference in the success of your business.
Table Reservation
Always look for a table reservation feature in the POS system if you are looking for things to consider before you buy a POS system. It can be a great way to optimize your seating arrangements and ensure that your guests are comfortable. In addition, a table reservation system can help you to keep track of your reservations and avoid overbooking.
This feature will allow you to keep track of your customers' reservations, as well as their contact information. You can follow up with them after their meal to ensure they had a positive experience. Additionally, seeing how many people are seated at each table will help optimize your waitstaff's time and keep things running smoothly.
A table reservation system can streamline your operations and provide a better experience for your guests. So be sure to look for a POS system that offers this valuable feature.
Insightful Reporting
When choosing a POS system for your business, selecting one that offers a robust reporting feature is important. This feature will allow you to track sales patterns, identify slow days and peak times, and make well-informed staffing and inventory levels decisions.
Look for a system that offers a wide range of reports, including sales, inventory, and customer trend reports.
In today's competitive marketplace, having access to this data type can give you a significant advantage over your rivals. So when choosing a POS system, be sure to select one that offers reporting capabilities. Your business will be glad you did.
Top Six Types of POS Systems for Restaurant
There are many different restaurant POS software on the market, but not all are equal. To help you make the best decision for your business, we've compiled a list of the top six types of POS system for restaurants.
jalebi.io
If you're looking for a POS system that can handle your restaurant operations from start to finish, jalebi.io is one of the best types of POS systems for restaurants. With jalebi.io, you can manage your inventory, track your sales, and process payments – all in one place. Our built-in reporting tools give you the insights you need to run your business efficiently.
Features
Here's a list of features offered by jalebi.io
Synced menus and recipes to check consumption level and manage restocking
Order visualizations to track sales data
Inventory and menu integration so that restaurants never run out of stock
Universal menu that allows you to synchronize menus across multiple branches
Data analytics to generate insightful reports that support better decision making
By signing up for jalebi.io, you can cut down your cost to service by 5% and optimize opportunities to boost revenue. So why wait? Contact us today and see how we can help streamline your operations.
Toast POS
If you're looking for a reliable and user-friendly POS system for your restaurant, Toast is worth considering in our list of restaurant POS system comparisons. Toast is a type of POS system for restaurants that o offers many features, such as table management, customer tracking, inventory management, and gift card support. It also offers a free trial period and competitive pricing.
With Toast, you can accept payments via credit card, Apple Pay, and Android Pay. The Toast restaurant POS software works seamlessly with other Toast products, such as the Toast Kitchen Display System and the Toast Mobile App.
This type of POS system for restaurants is a great option for restaurants looking for a comprehensive and easy-to-use restaurant POS software .
Chameleon
The third in the list of restaurant POS system comparisons is Chameleon.
Chameleon is one of the most user-friendly restaurant POS software when it comes to types of POS systems for restaurants. Its sleek interface is easy to navigate, and its features streamline your workflow.
Chameleon offers powerful tools for managing inventory, processing payments, and tracking sales data.
But what sets Chameleon apart from other restaurant POS software is its versatility. With Chameleon, you can customize your point of sale to fit your unique business needs. Whether running a small retail store or a busy restaurant, Chameleon has the features you need to run your business more efficiently.
So why wait? Try Chameleon today and see how easy it is to take your business to the next level.
4. TouchBistro
If you're looking for the best restaurant POS system, TouchBistro should definitely be on your list.
By utilising the iPad's intuitive interface, TouchBistro offers a user-friendly experience that users can efficiently navigate.
Features
It comes as a handheld restaurant POS system that facilitates portability.
The menu management feature of this handheld restaurant POS system enables restaurant managers to update the menu pricing, description, and dishes swiftly.
The system offers integrated payment solutions through partnerships with leading payment providers
So if you are looking for a handheld restaurant POS system to manage your restaurant operations, don't forget to check out TouchBistro.
5. Upserve
Upserve stands out as one of the best restaurant POS systems, equipped to offer insights into various aspects of restaurant operations, including sales, menu trends, and staff performance.
As Upserve focuses on user experience, its intuitive interface ensures a shorter learning curve for staff.
Features
Comprehensive inventory management system
Efficient employee management system
Enhanced customer service and targeted marketing
Therefore, we recommend you to check out Upserve if you want to streamline your restaurant operations in 2023.
6. Revel Systems
Revel Systems is a POS system that caters to a wide range of industries, including retail and marketing, but its role in the restaurant sector is quite notable.
Features
Facilitates loyalty program integration
Ensures smooth delivery management
Streamlines the communication between kitchen staff and the delivery team
A unique selling point for Revel Systems is its offline mode, which guarantees continuous service without an internet connection too.
By leveraging Revel Systems, you can easily take your restaurant management system to the next level.
Final Thoughts
Now that you know what to look for in a restaurant POS software , it's time to get out there and shop around. Do your research, read the reviews, and compare prices of the types of POS systems for restaurants. And don't forget to try out the systems yourself before making a final decision.
The right POS system will make running your restaurant smoother, more efficient, and more profitable. With this guide on restaurant POS system comparisons, you can find the perfect POS system for your business and scale your growth in no time.
Frequently Asked Questions
What are the most important criteria when choosing a POS system?
Selecting the right POS system for your restaurant is a critical business decision.
When choosing a POS system, the most important criteria include ease of use, customization capabilities, scalability, and reliability. The system should be user-friendly to ensure your staff can utilize it effectively and reduce errors.
Customization is important as your POS system should be able to accommodate your specific business needs, like your menu items, specials, and discounts.
As your business grows, the POS system should be able to scale with it, adding more terminals or features as required. Reliability is paramount as any system downtime can disrupt service and potentially lead to lost sales.
Additionally, consider the quality of customer support provided by the POS vendor, as well as the system's integration capabilities with other systems you may use, such as inventory management or online ordering platforms.
Lastly, cost-effectiveness should also be a determining factor, as the system should fit within your budget while still providing all the necessary features.
Why do you need to know the right POS system for your restaurant?
Understanding why you need to know the right POS system for your restaurant is crucial for efficient operations and business growth. A POS system is more than just a tool for accepting payments. It's the technological backbone of your restaurant's operations.
The right system streamlines processes, reduces human error, and speeds up service, all of which enhance the overall customer experience.
It can help manage and automate inventory tracking, saving time and reducing waste.
The data it collects can provide valuable insights into sales trends, popular items, and customer habits, information that can guide your business decisions and marketing strategies.
Furthermore, a good POS system can help manage tables, reservations, and online orders, making it a central hub for managing various aspects of your restaurant business.
Therefore, understanding what to look for and why it matters can make a significant difference in your restaurant's success.