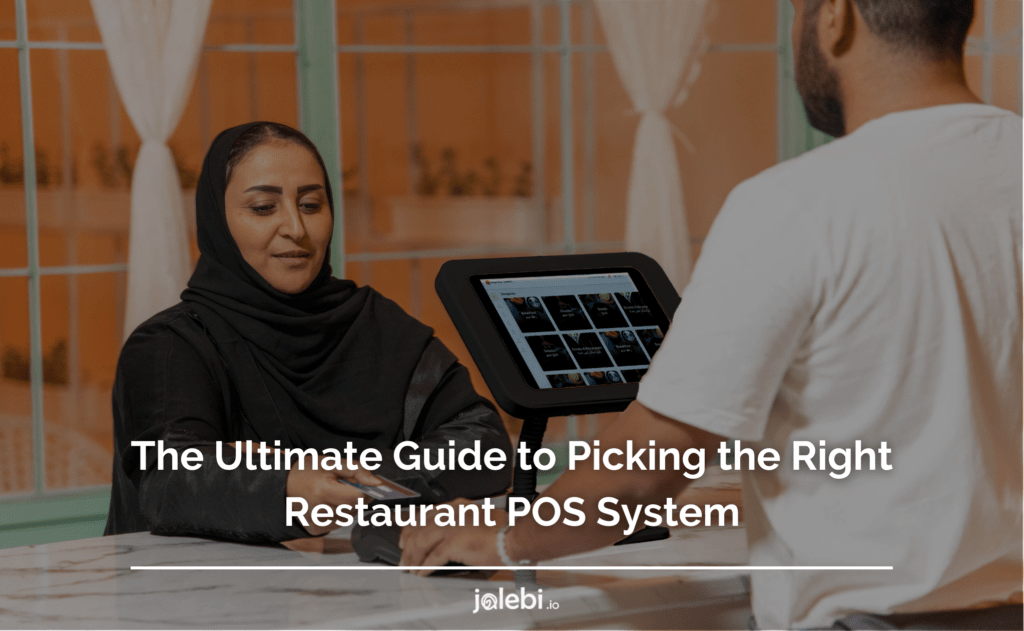 If you're in the market for a POS restaurant system, you're likely feeling overwhelmed by all your options. There are so many different features and functions to consider, not to mention the various pricing plans and providers.
Are you looking for a new restaurant POS system? If so, you're probably wondering which system is right for your business. How can you be sure you're making the right decision?
The good news is that there is no perfect POS restaurant system for every business.
The key is to carefully assess your needs and choose a system that fits your unique situation. In this guide, we'll walk you through selecting a POS restaurant system and show you how to find the best option for your restaurant. Let's get started!
Why is POS Restaurant System Essential for Your Restaurant?
POS restaurant system is necessary for any restaurant that wants to be successful. Here are three reasons why.
Streamlines the Ordering Process
A POS restaurant system helps to streamline the ordering process. Customers can simply enter their order into the system, and then the kitchen staff can prepare the food according to the order. This saves time and reduces potential mistakes.
Enables Inventory Tracking
A POS system for restaurant can help to follow inventory levels. It is essential because it helps to ensure that the kitchen always has enough ingredients on hand to make the food that customers want to order.
It also helps to keep track of what items are selling well and which items need to be reordered.
Provides Customer Data
Restaurant POS systems can help to provide customer data. They can use this information to improve the overall customer experience.
For example, if certain menu items are not selling well, they can be removed from the menu. Or, if there is a particular time of day when customer traffic is slow, special promotions can be offered during those times to attract more business.
In short, a POS restaurant system is necessary for any business that wants to operate efficiently and effectively. Any restaurant that does not have a POS system for restaurant is at a disadvantage compared to those that do.
Try jalebi.io FREE For 90 days
Get your demo booked now to get onboarded
The Guide to Choosing the Right POS Restaurant System
Choosing the best POS system for your restaurant can be a daunting task. With so many options on the market, it's essential to take the time to find the one that best suits your needs. When searching for a POS system, remember the following factors to make the right decision.
Inventory Tracking
When choosing a POS system for your restaurant, look for one that includes inventory tracking. This feature will save you time and money by helping you to keep track of your stock levels and avoid overordering.
It can also help you to control your costs by allowing you to track how much of each product you're using and identify any areas where you may be overspending. Some restaurant POS systems can also offer recipe costing, which can help you ensure that you price the dishes appropriately.
In addition, by having real-time information on your inventory levels, you can more effectively manage your food cost and ensure that your menus are updated with the freshest ingredients. Ultimately, a restaurant POS system with inventory tracking will help you to run a more efficient and profitable business.
Supply Chain Management
When running a successful restaurant, there are many factors to consider. Finding a POS system that meets all your needs is one of the most important. While there are many different features to consider, one of the most important is supply chain management.
A sound POS system will ensure you always have the supplies you need on hand. It will also allow you to track orders and monitor vendors to ensure you get the best possible prices.
A POS system with supply chain management can save you time and money, so it is worth considering when choosing a POS system for your restaurant.
Customer Data Management
Choose a POS system with a strong customer data management feature. A good customer management system will help you keep track of your customers' orders, preferences, and contact information. This will allow you to provide better customer service and build loyalty. In addition, a good customer management system will also help you manage your data more efficiently.
With all of your customers' information in one place, you'll be able to generate reports and make better decisions about your business quickly. So It could make all the difference in the success of your business.
Table Reservation
Always look for a table reservation feature in the POS system. It can be a great way to optimize your seating arrangements and ensure that your guests are comfortable. In addition, a table reservation system can help you to keep track of your reservations and avoid overbooking.
This feature will allow you to keep track of your customers' reservations, as well as their contact information. You can follow up with them after their meal to ensure they had a positive experience. Additionally, seeing how many people are seated at each table will help optimize your waitstaff's time and keep things running smoothly.
A table reservation system can streamline your operations and provide a better experience for your guests. So be sure to look for a POS system that offers this valuable feature.
Insightful Reporting
When choosing a POS system for your business, selecting one that offers a robust reporting feature is important. This feature will allow you to track sales patterns, identify slow days and peak times, and make well-informed staffing and inventory levels decisions.
Look for a system that offers a wide range of reports, including sales, inventory, and customer trend reports.
In today's competitive marketplace, having access to this data type can give you a significant advantage over your rivals. So when choosing a POS system, be sure to select one that offers reporting capabilities. Your business will be glad you did.
Top Three Restaurant POS Systems
There are many different restaurant POS systems on the market, but not all are equal. To help you make the best decision for your business, we've compiled a list of the top three best POS systems for restaurant.
jalebi.io
If you're looking for a POS system that can handle your restaurant operations from start to finish, jalebi.io is the answer. With jalebi.io, you can manage your inventory, track your sales, and process payments – all in one place. Our built-in reporting tools give you the insights you need to run your business efficiently.
Features
Here's a list of features offered by jalebi.io
Synced menus and recipes to check consumption level and manage restocking
Order visualizations to track sales data
Inventory and menu integration so that restaurants never run out of stock
Universal menu that allows you to synchronize menus across multiple branches
Data analytics to generate insightful reports that support better decision making
By signing up for jalebi.io, you can cut down your cost to service by 5% and optimize opportunities to boost revenue. So why wait? Contact us today and see how we can help streamline your operations.
Toast POS
If you're looking for a reliable and user-friendly POS system for your restaurant, Toast is worth considering. Toast offers many features, such as table management, customer tracking, inventory management, and gift card support. It also offers a free trial period and competitive pricing.
With Toast, you can accept payments via credit card, Apple Pay, and Android Pay. The Toast POS system works seamlessly with other Toast products, such as the Toast Kitchen Display System and the Toast Mobile App.
Overall, Toast is a great option for restaurants looking for a comprehensive and easy-to-use POS system.
Chameleon
Chameleon is one of the most user-friendly POS systems in the market. Its sleek interface is easy to navigate, and its features streamline your workflow. Chameleon offers powerful tools for managing inventory, processing payments, and tracking sales data.
But what sets Chameleon apart from other POS systems is its versatility. With Chameleon, you can customize your point of sale to fit your unique business needs. Whether running a small retail store or a busy restaurant, Chameleon has the features you need to run your business more efficiently.
So why wait? Try Chameleon today and see how easy it is to take your business to the next level.
Final Thoughts
Now that you know what to look for in a POS system, it's time to get out there and shop around. Do your research, read the reviews, and compare prices. And don't forget to try out the systems yourself before making a final decision.
The right POS system will make running your restaurant smoother, more efficient, and more profitable. With this guide in hand, you're sure to find the perfect POS system for your business and scale your growth in no time.
Try jalebi.io FREE For 90 days
Get your demo booked now to get onboarded