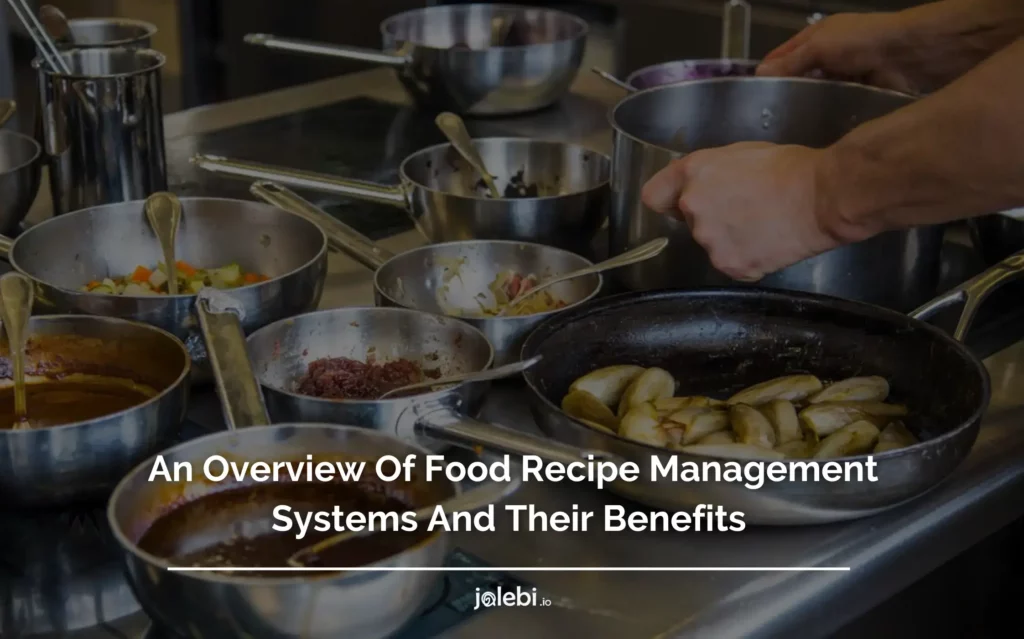 As the food industry evolves, managing recipes has become more complex and time-consuming.
With so many recipes to keep track of, chefs and kitchen managers often struggle with organizing, updating, and sharing recipes.
Fortunately, food recipe management systems offer a solution to these challenges.
76% of restaurant operators believe that technology helps them to increase sales.
By using recipe management software, restaurants can create new dishes and menus faster and more efficiently, leading to increased sales opportunities.
These software platforms are designed to simplify recipe management by providing a centralized hub for managing recipes.
In this blog post, we will provide an overview of food management systems and their benefits.
From reducing costs and increasing productivity to improving menu consistency and recipe accuracy, we will explore how these systems can help streamline kitchen operations and improve overall efficiency.
Whether you are a restaurant owner, head chef, or food service manager, this guide will give you a deeper understanding of such systems and how they can benefit your business.
What Is A Recipe Management System?
A recipe management system is a software platform designed to streamline the process of creating, organizing, and sharing recipes.
It provides a centralized hub for chefs and kitchen managers to manage all their recipes, including the ability to create and edit recipes, search and filter through them, and share them with team members.
These systems also offer features such as ingredient inventory tracking, menu planning, and cost analysis, which can help improve the efficiency of kitchen operations.
Benefits Of A Recipe Management Software
If you're running a restaurant, you know how crucial it is to have consistent and high-quality recipes.
In this section, we'll take a closer look at the benefits of recipe management software and how it can help take your restaurant to the next level.
Consistent Recipes
One of the primary benefits of recipe management software is that it helps ensure that all recipes are consistently prepared.
With standardized recipes, chefs can avoid discrepancies in flavor and quality across different dishes, leading to a better dining experience for customers.
Such software provides real-time inventory tracking, enabling chefs to plan their menus according to what they have in stock.
With this information, chefs can avoid unnecessary expenses and waste, reducing food costs and enhancing profitability.
Time Management
With this software, chefs can quickly and efficiently create new dishes and menus.
The software simplifies the recipe creation process, enabling chefs to focus on the quality of the food rather than spending time on manual management of recipes.
Cost Savings
The software provides detailed cost analysis, calculating food costs for each recipe.
With this information, chefs can identify areas where cost savings can be made, leading to significant savings for the restaurant.
Recipe Scaling
The software allows chefs to scale their recipes based on the number of servings required, reducing food waste and saving time.
Chefs can adjust recipes to accommodate different party sizes, leading to better cost control and more efficient kitchen operations.
Data Analytics
Such software provides detailed analytics on recipe performance, enabling chefs to make data-driven decisions and optimize their menus for maximum profitability.
With this information, chefs can determine which dishes are most popular, adjust ingredient quantities, and optimize pricing for the best return on investment.
A Review Of The Top Management Software For Restaurant Recipes
Managing recipes in a busy restaurant can be a daunting task. However, with the right tools, you can streamline your kitchen operations in no time.
But with so many options out there, how do you choose the right one? In this section, we will review the top software for managing restaurant recipes.
From inventory management to menu planning and data analytics, we'll take a closer look at the features and benefits of each software to help you make an informed decision.
So, let's get started!
1- jalebi
Are you tired of the hassle of manually managing your restaurant's recipes? Do you want to optimize your kitchen operations and improve the consistency of your dishes?
Look no further than jalebi, the restaurant operating system with recipe management features.
jalebi streamlines the recipe control process, making it easier than ever for chefs and restaurant owners to create, store, and update their recipes.
Our ROS has got you covered with its food management feature that focuses on batch production and semi-finished goods.
We allow chefs and restaurant owners to create recipes in bulk, optimizing their production process and reducing waste.
Features
With jalebi's restaurant recipe software, restaurants can integrate their menus with inventory to keep track of their inventory in real-time based on customer consumption.
jalebi facilitates restaurants with order management. With Jalebi, restaurants can take orders online and manage them efficiently.
jalebi's restaurant recipe software enables marketplace integrations for restaurants, making it easy for them to connect with third-party services and extend their reach to new customers.
We offer a POS for restaurants that is extremely user-friendly and efficient.
Say goodbye to the hassle of manual management of recipes and hello to the convenience and efficiency of jalebi!
Contact us today to see how our restaurant operating system can help you with managing your recipes efficiently.
2- Jolt
Jolt is a comprehensive food management software that offers culinary management as one of its key features.
Features
With Jolt, you can create and store recipes
Track inventory in real-time, and analyze your food costs.
Jolt's food management feature also allows for the customization of portion sizes, batch production, and ingredient substitutions.
What's best? It provides users with detailed reporting and analytics, allowing for better decision-making when it comes to menu planning and cost optimization.
So if you're looking for a software solution to manage your restaurant's recipes, don't forget to check out Jolt!
3- CrunchTime
CrunchTime is not only a top food management software for restaurants but a comprehensive solution for restaurant management.
With its robust food management feature, CrunchTime allows chefs to create, modify, and store recipes in a centralized location.
Features
The software offers real-time inventory tracking.
Additionally, CrunchTime provides forecasting capabilities that allow for better budgeting and menu planning.
With the ability to track inventory usage, waste, and cost variances, chefs can make better-informed decisions about purchasing and menu planning.
With the ability to calculate costs and nutritional information, CrunchTime's food management feature ensures that chefs can make informed decisions about menu planning and ingredient usage.
4- MarketMan
MarketMan is a powerful and versatile cloud-based restaurant management software that offers a robust food management feature.
With MarketMan, chefs have the ability to create and store recipes in a central location, allowing for easy access and modification.
The software's food management feature also allows for real-time inventory tracking, making it easy to keep track of ingredient usage and costs.
Features
Purchasing and order management
The ability to customize portion sizes and batch production
Additionally, batch production capabilities allow chefs to streamline their kitchen operations, allowing for more efficient meal preparation and faster service times.
Overall, MarketMan's restaurant operating software is a powerful and versatile solution for chefs and restaurant owners looking to streamline their kitchen operations.
5- Cheftac
ChefTec is one of the best recipe organizer software trusted by chefs and restaurant owners worldwide.
The software provides a range of tools for creating, storing, and modifying recipes, making it easy for chefs to manage their culinary creations in one central location.
Features
One of the standout features of ChefTec is its inventory tracking system, which allows chefs to easily monitor ingredient usage and costs in real-time.
ChefTec also offers robust menu planning and purchasing features, allowing chefs to easily plan their menus and order ingredients from their preferred vendors.
Another key advantage of ChefTec is its ability to integrate with a range of other
restaurant management systems, such as POS systems and accounting software.
Thus, it is a comprehensive and powerful food management software that provides chefs with the tools they need to manage their kitchen operations more efficiently.
Final Thoughts
Food management systems are essential tools for restaurants looking to optimize their operations and improve their profitability.
From food management software to inventory tracking systems, these solutions offer a range of features that can help chefs and restaurant owners streamline their operations and make data-driven decisions about their businesses.
Overall, investing in a food management system is a smart move for any restaurant looking to stay competitive in today's fast-paced culinary industry.
So, take the time to research the options available and find the best recipe organizer software for your unique needs and goals.
With the right food management system in place, you can take your restaurant to the next level and achieve greater success than ever before.
Frequently Asked Questions
What is SAP recipe control?
SAP recipe control is a feature within the SAP software suite that enables the management of complex product recipes in manufacturing operations.
It provides a set of tools for creating, maintaining, and optimizing recipes, including formula and recipe management, batch management, and quality management.
What is recipe management in PLM?
Recipe management in PLM (Product Lifecycle Management) refers to the process of managing product recipes or formulations throughout the product development and manufacturing lifecycle.
It involves creating and maintaining accurate and up-to-date recipes for products, tracking changes and variations in recipes, and ensuring that recipes comply with regulations and standards.
How do I organize my recipes electronically?
Organizing your recipes electronically is a convenient way to keep them all in one place and easily accessible.
First, choose a platform that suits your needs, such as recipe management software, cooking apps, or cloud-based storage services.
Next, create categories and subcategories for your recipes, making it easier to find the right recipe when you need it. Input all the necessary information for each recipe, including ingredients, measurements, and cooking instructions.
You can also add notes or comments to the recipe if you want to remember any modifications you made or any tips for next time. Finally, use tags to further organize your recipes and make them even easier to find.
By following these steps, you can create a well-organized digital recipe collection that is easy to use and maintain.