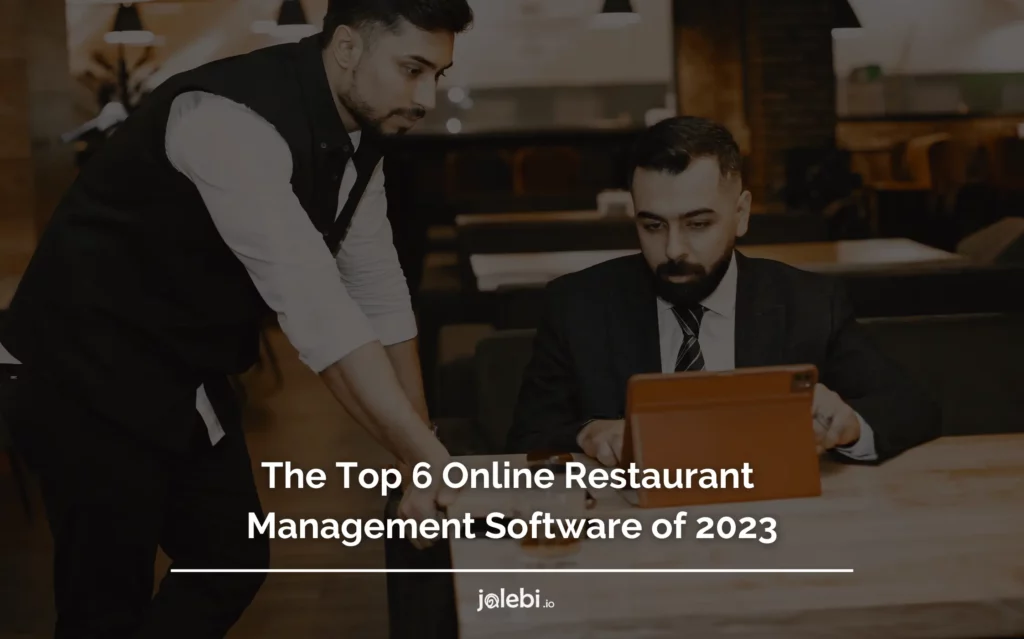 Restaurant management is a complex task that requires a variety of skills and knowledge.
If you're looking to take on this role, you'll need to be able to handle everything from financial matters to food preparation.
As the restaurant industry is a rapidly-growing one, and there are several online restaurant management software options that allow you to run your business more efficiently.
In this article, we outline the six best options available on the market today. We'll also give you a brief overview of each software package, and explain why they're such great choices for restaurant owners.
So whether you're just starting out, or looking to take your business to the next level, be sure to check out these top 6 online restaurant management software options!
What is Online Restaurant Management Software?
Online Restaurant Management Software is a software program that allows chefs and managers to keep track of their restaurants' daily operations from one central location. It is a tool that can be used by restaurants to help them manage their business more effectively. This type of software can help with a variety of tasks, such as keeping track of customers, orders, and payments.
It can also help with scheduling and managing employees. Additionally, online restaurant management software can provide insights and analytics that can help businesses make more informed decisions about their operations.
The Importance of Online Restaurant Management
Why is online restaurant management important? Online restaurant management is becoming an increasingly important part of the food industry. As the food industry continues to grow, online restaurant management will become even more popular.
So why should you consider using such a system?
Here are the top three reasons why online restaurant management is important.
Perhaps the most important reason is that it can help to streamline the operations of a restaurant. This is because it can provide a central place for all of the information that a restaurant needs to track. It includes things like customer orders, inventory, and employee schedules. Having this information in one place online can make it much easier for a restaurant to run smoothly and efficiently.
Another reason why online restaurant management is important is that it can help to improve customer service. Online management can make it easier for customers to place orders and track their delivery status.
In addition, restaurants can keep track of customer preferences and feedback through online management. This information can be used to make sure that customers are always happy with their experience at a particular restaurant.
Finally, good restaurant management can also help to save money as it can help restaurants avoid over-ordering supplies or ingredients.
Moreover, it can also help restaurants to manage their labor costs more effectively. With good restaurant management online, restaurants can ensure that they are always operating cost-effectively.
Top Six Online Restaurant Management Software
If you're looking to take your restaurant management to the next level, you'll need to find the right online restaurant management software. And luckily, there are a variety of options available on the market today.
In this post, we'll take a look at six of the best online restaurant management software options available today.
1- jalebi.io
Are you looking for a restaurant management system that manages every aspect of your restaurant? jalebi.io is the world's only inventory-first restaurant management system that makes restaurant management a smooth task.
jalebi.io not only keeps track of food items, but also food consumption, accounting information, sales data, and much more – all in one place so you can focus on running your business rather than managing it!
Why choose jalebi?
Inventory-First
jalebi automatically updates the correct amount of food items in stock based on actual purchases made by customers. This eliminates waste and increases profits while minimizing error rates.
Advanced Analytics
Our cutting-edge analytics help managers make informed decisions about how to allocate resources between departments, optimize menu choices, and increase revenue streams.
Customer Care 24/7
If there are any problems with the software or questions about its use please feel free to contact our team 24/7 via chat or email for support. We would love to be able to help make your life as a restaurateur easier!
Supplier CRM
jalebi.io has a supplier CRM to facilitate restaurants in finding suppliers, ordering supplies, and tracking inventory. Supplier CRM allows for quick and easy access to all the information companies need to manage their suppliers effectively.
Universal Menu
We offer a universal menu feature that allows restaurants to cater more easily to different dietary restrictions and tastes, without having to reinvent the wheel every time they open up a restaurant.
2. PosBytz
POSBytz is designed to make it simple for restaurant operators to manage their businesses online. It features an online ordering and reservations system, as well as a menu management tool that lets you create custom menus for your customers.
You can also customize the layout of your kitchen so that it reflects the look and feel of your restaurant. With this software, you can manage your orders across all channels efficiently.
Restauranters can generate daily and monthly profit and loss reports to keep an eye on their financial position as well.
Finally, with POSBytz's employee tracking and payroll processing tools, you can keep track of all the information you need to run your business smoothly.
It helps restaurants to manage their business more efficiently and provide a better dining experience for customers.
3. Foodics
Foodics is an online restaurant management system that streamlines restaurants. It was launched in Saudi Arabia in 2014 and has since become a popular choice for many restaurateurs across the country.
The software provides a comprehensive suite of tools for managing inventory, customers, orders, and more.
It enables restaurateurs to manage their entire business from one platform, including food preparation, delivery, dining services, POS (point-of-sale) systems integration, and marketing initiatives.
The software also includes features such as order tracking and customer feedback surveys which enables restaurants to check online status of their performance.
Foodics also offers reporting and analytics features to help businesses track their performance and identify areas of improvement.
4. Taker.io
If you're looking for comprehensive restaurant management software, Taker.io is a great option. With features like online ordering, table reservations, and menu management, you can streamline your operations and improve your customer experience.
In addition, Taker.io offers reporting and analytics tools to help you track your performance and make informed decisions about your business.
Whether you're a small restaurant just starting out or a large chain with multiple locations, Taker.io can help you run your business more effectively.
5. Aloha
Are you looking for restaurant management software that can help you run your business more efficiently? Aloha is the perfect solution for you. It is a cloud-based POS that gives you the power to manage your business from anywhere.
Aloha's easy-to-use platform offers everything from meal planning and inventory management to payroll and employee tracking. It enables restaurants to generate customer loyalty cards and facilitates online ordering. Plus, the intuitive interface makes it easy to manage your entire operation from one place.
With Aloha, businesses can streamline operations, improve customer service, and increase profitability. It provides a comprehensive solution for managing restaurants of all sizes, from quick-service to full-service.
Gloriafood
Gloriafood is a restaurant management system that allows restaurants to operate more efficiently and securely. The platform was designed with the needs of small businesses in mind, and it offers a wide range of features that can help restaurateurs manage their operations better.
It offers a dynamic menu builder that lets you create custom menus for each dish and drink option, as well as seasonal specials.
With Gloriafood, you get an easy-to-use POS system that lets you manage your finances and inventory in real-time. A reservations engine is present on the platform that makes booking tables easier than ever before.
Moreover, it enables integration with other popular systems like Zendesk and Magento so you can easily handle customer interactions online or on the phone.
How to Choose the Right Restaurant Management System?
Choosing the right restaurant management system is a critical decision for any restaurant owner or manager. There are many factors to consider when making this decision, including the size and type of restaurant, the specific needs of the business, and the budget.
The first step in choosing the right system is to assess the needs of the business. What features are most important? Are you looking for a system that can handle online ordering and reservations? One that integrates with POS systems? One that offers customer loyalty programs? Once you know what features you need, you can start narrowing down your choices.
Another important factor to consider is the size of your restaurant. If you have a large restaurant with multiple locations, you'll need a more robust system than if you have a smaller operation. Make sure to choose a system that can grow with your business.
Finally, be sure to consider your budget when choosing a restaurant management system. There are many affordable options on the market, but some systems can be quite expensive. Be sure to get quotes from several vendors before making your final decision.
If you're looking for an all-in-one restaurant management software that will take care of all your restaurant needs, contact Jalebi.io for more information! We'll streamline it all for you.