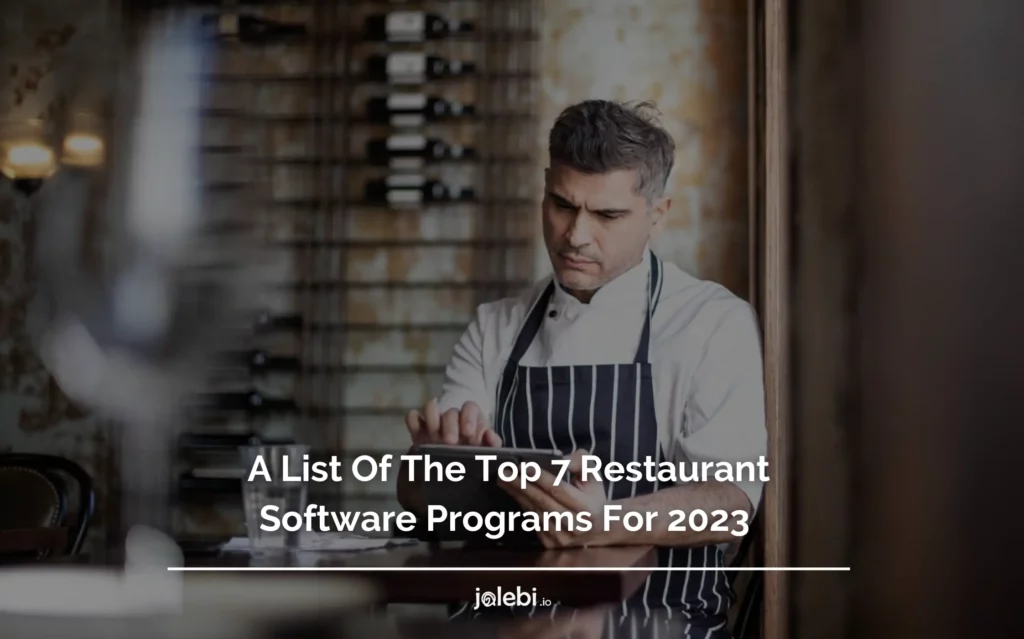 One area where technology has made a significant impact is in the realm of restaurant software programs.
According to a survey by Statista, the sales of the restaurant industry increased up to $72.2 billion in 2021.
As the restaurant industry continues to evolve, the use of technology has become increasingly important in managing operations, optimizing efficiency, and improving customer experiences.
The restaurant industry has come a long way in terms of technology adoption, and restaurant software programs have played a significant role in transforming the industry.
In 2023, the best restaurant software programs are those that provide an all-in-one solution for restaurant owners, managers, and staff.
These programs can help with everything from online ordering and table management to inventory tracking and accounting.
With so many options available, it can be challenging to determine which restaurant software program is the best fit for your business.
In this blog post, we'll take a look at the top seven restaurant software programs for 2023, based on their features, ease of use, and overall value.
What Is Restaurant Software Program?
A restaurant software program is a computer program or suite of programs designed specifically for use in a restaurant or food service establishment.
It is used to manage various aspects of the restaurant's operations, including point-of-sale (POS) systems, inventory management, table reservations, employee scheduling, and customer relationship management (CRM).
Why Should Your Restaurant Leverage A Software Program?
In today's highly competitive restaurant industry, it's essential to stay ahead of the curve by leveraging the latest technology to streamline your operations and enhance your customer experience.
Here are a few reasons why opting for restaurant management software can be your best option in 2023.
1- Improved Efficiency
Restaurant management software can help automate many time-consuming tasks such as order taking, inventory management, and employee scheduling, freeing up time for staff to focus on other important tasks.
2- Enhanced Customer Experience
With features like online ordering, reservations, and loyalty programs, restaurant software solutions can help improve the customer experience and keep diners coming back.
3- Better Decision-Making
Restaurant software solutions can provide valuable data and analytics on things like sales trends, inventory usage, and employee performance, giving owners and managers the insights they need to make informed decisions about their business.
4- Reduced errors
By automating tasks like order taking and inventory management, restaurant software solutions can help reduce errors that can lead to wasted food and lost revenue.
Top Seven Restaurant Software Programs In 2023
The restaurant industry is constantly evolving, and technology has become a crucial component in running a successful business.
From streamlining operations to enhancing customer experience, software programs have become a necessary tool for restaurant owners.
Here is a list of the top software for restaurant business owners that can help them manage their operations effectively.
1- jalebi
If you're looking for the best software for restaurant operations, jalebi's restaurant operating software can be your best solution right now.
Our software is designed to streamline your restaurant's operations, from managing inventory and suppliers to tracking sales and customers.
Features
With jalebi, you can integrate your inventory with the menu to track inventory in real time based on customer consumption.
jalebi provides restaurants with sales data visualization that helps them to identify patterns and trends in their sales.
The sales data information is valuable for making decisions about menu planning, pricing, and promotions.
You can generate insightful reports to measure the true cost of food with jalebi's platform.
By understanding the full cost of a dish, businesses can make more informed decisions about pricing and menu planning.
Additionally, jalebi's platform can help identify areas where costs can be reduced without compromising quality or customer satisfaction.
Our user-friendly interface makes it easy for your staff to use, so you can focus on running your business instead of worrying about training them on new software.
So why wait? Get started with jalebi today and see how we can help you take your restaurant to the next level! Contact us today for more information.
2- Upserve
If you're looking for restaurant management software that can help take your business to the next level, Upserve is a great option to consider.
With its comprehensive features and flexible pricing options, Upserve can help streamline your operations, improve your guest experience, and boost your bottom line.
Features
Advanced reporting
Marketing and loyalty programs
Whether you're a busy casual eatery or a high-end dining establishment, Upserve can help you run your business better.
So if you're looking for top-notch software for restaurant business, be sure to check out Upserve.
3- Lightspeed
If you're looking for a top-notch restaurant management platform, look no further than Lightspeed.
With its intuitive interface and powerful features, Lightspeed is perfect for managing all aspects of your restaurant business – from front-of-house operations to back-of-house kitchen management.
Features
Payment processing
Point of sale
Integrations
Because it's cloud-based, you can access your data from anywhere, at any time.
So if you're looking for a platform that can help you streamline your operations and improve your bottom line, be sure to check out Lightspeed. You won't be disappointed.
4- Posist
Posist is one of the best software for restaurant operations management in the market. It is feature-rich and user-friendly, making it the perfect choice for businesses of all sizes.
Posist offers a comprehensive set of tools to help businesses manage their operations more efficiently.
Features
Contactless dining
Customer relationship management
From inventory and menu management to table reservation and POS integration, Posist has everything you need to run your restaurant smoothly.
5- HungerRush
If you're looking for a restaurant management platform that can help you streamline your operations and boost your bottom line, HungerRush is one of the best options in the market. With its powerful tools and features, HungerRush can help you manage all aspects of your restaurant business on a single platform.
Features
Point of sale
Online ordering
Payment processing
Moreover, its reporting capabilities will give you insights into your business so you can make informed decisions about how to grow it.
6- Micros
If you're looking for a top-notch restaurant management platform, you can't go wrong with Micros.
With its powerful features and intuitive interface, Micros is ideal for streamlining all kinds of restaurant operations.
Features
Inventory tracking
Supply chain management
Financial management
What's more, the platform is constantly being updated with new features and improvements, so you can be sure that you're always getting the best possible experience.
Whether you're a small cafe or a large chain restaurant, Micros is the perfect solution for your needs.
7- SambaPOS
If you're looking for a restaurant management platform that can help your business grow, then you need to check out SambaPOS.
With its powerful tools and features, SambaPOS can help you manage your restaurant more efficiently and scale your growth in no time.
Features
Menu management
Kiosk
E-invoice generation
From managing orders and customers to tracking inventory and finances, SambaPOS has everything you need to take your restaurant to the next level.
And best of all, it's easy to use and affordable, so you can get started right away. So don't wait any longer, check out SambaPOS today and see how it can help your business thrive!
Final Thoughts
In conclusion, as the restaurant industry becomes more competitive, it's crucial for businesses to leverage technology to stay ahead.
Restaurant software programs offer an array of features and benefits, from streamlining operations to enhancing the customer experience.
The top seven restaurant software programs for 2023 offer a variety of features to suit different business needs.
When choosing a software program for your restaurant, it's important to consider factors such as ease of use, affordability, and scalability.
As 73% of diners believe that restaurants that leverage technology can enhance customer experience, it is your signal to opt for restaurant management software.
With the right software program, restaurants can improve their operations, increase efficiency, and ultimately, boost their bottom line.
Frequently Asked Questions
What features does a restaurant need in restaurant management solutions?
There are many features that a restaurant needs in restaurant management solutions.
Some of these features are the ability to manage reservations, keep track of customer orders and preferences, and create detailed reports.
Other important features include employee scheduling, inventory management, and financial reporting. Having these features in place can help a restaurant run more smoothly and efficiently.
Do restaurants use ERP?
Yes, restaurants do use ERP software to manage their operations. This type of software helps businesses keep track of inventory, customers, and orders.
It can also help with accounting and financial reporting. ERP systems are beneficial for businesses because they can automate many tasks and make information easier to access.
Is CRM essential for restaurant management?
There's no question that CRM is essential for restaurant management.
First and foremost, it helps you keep track of your customers' preferences and orders. This way, you can ensure that each customer is getting exactly what they want when they want it.
Additionally, CRM provides valuable insights into your customers' behavior, which can help you make smarter decisions about everything from pricing to promotions.
Finally, CRM can help you build stronger relationships with your customers by keeping them informed and engaged with your brand. In short, there's simply no way to run a successful restaurant without CRM.