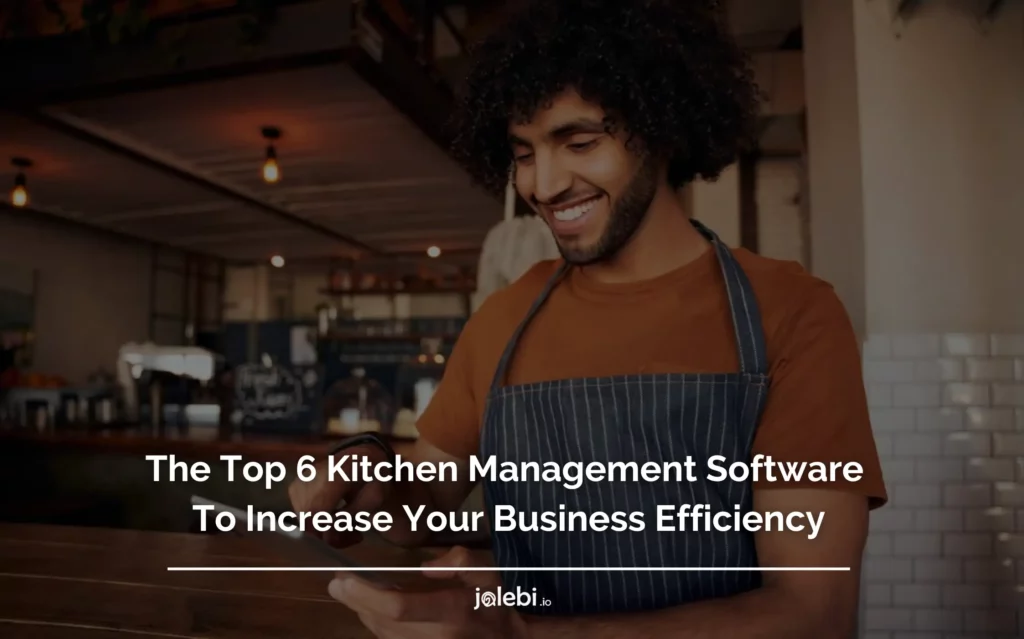 With a wide range of kitchen management software options available, choosing the right one can be overwhelming.
With the increasing demand for online orders and deliveries, managing a kitchen has become even more complex.
Managing a kitchen can be a challenging and complex task, requiring the coordination of multiple activities, such as food preparation, inventory management, and staff scheduling.
If you're a restaurateur who's struggling to streamline your kitchen operations, don't despair. Technology is here to help you get things running more smoothly.
Fortunately, technology has provided us with kitchen management software that can help simplify these tasks for restaurants to streamline their operations.
In this blog, we will discuss the top six kitchen management software options that can help you run your kitchen more efficiently, from inventory management to costing reports and beyond.
What Is Kitchen Management Software For Restaurants?
Kitchen management software is a digital solution that helps restaurant owners and managers streamline various aspects of running a kitchen, including inventory management, recipe management, staff management, order tracking, and more.
This software can be accessed from a computer or mobile device, allowing managers to monitor kitchen operations in real time and make data-driven decisions that can increase efficiency and profitability.
Why Is Opting For Kitchen Management Solution Essential?
Only 26% of restaurants see themselves as technologically equipped businesses after the onset of the pandemic.
Now that you know what is kitchen management software, it is crucial to understand why your restaurant business would need to opt for one.
Here are some of the main reasons why every restaurant should consider leveraging a kitchen management solution for its operations.
1- Increased Efficiency
Kitchen management platforms can streamline various kitchen processes, reducing the time and effort required to complete tasks.
This increased efficiency can help restaurants prepare and deliver orders more quickly, improving customer satisfaction and increasing sales.
2- Cost Control
Kitchen management solutions can help control costs by providing real-time inventory tracking and recipe management.
It enables restaurant owners and managers to reduce waste, control food costs, and optimize labor costs by managing staff schedules and tracking employee performance.
3- Improved accuracy
With kitchen management software, restaurants can eliminate manual processes and reduce errors, resulting in improved accuracy in order preparation, inventory management, and recipe management.
It can help reduce food waste, improve inventory control, and increase customer satisfaction.
Thus, investing in quality kitchen management solutions can save you time and money in the long run.
It can help you run your business more efficiently and effectively, freeing up your time to focus on other aspects of running your restaurant.
The Top 6 Restaurant Kitchen Management Software In 2023
If you're running a restaurant, then chances are you're always looking for ways to streamline your operations and boost efficiency. After all, time is money in the restaurant business!
That's why we've compiled a list of the top six restaurant kitchen management platforms for 2023.
These software options are designed to help you track inventory, manage orders, and keep your kitchen running like a well-oiled machine.
After carefully reviewing each platform, choose the best software for restaurant business management and witness its benefits in no time.
1- jalebi
If you're looking for the best software for restaurant management in 2023, jalebi's restaurant operating software is a leading kitchen management software in the market.
With its powerful features and ease of use, it's no wonder that so many restaurants are using it to streamline their operations.
From inventory management to menu unification, jalebi's restaurant operating software makes it easy to run a successful restaurant.
Features
Real-time inventory tracking
With jalebi, restaurants can integrate their menus with their inventory, so they always know what ingredients they need and when to order more.
This not only saves time and money but also prevents potential losses due to food spoilage or shortages.
At jalebi, we enable restaurants to create a universal menu. You'll have one central menu that's accessible from anywhere which streamlines kitchen management.
The software is designed to offer insightful reporting to restaurants so that they can measure the true cost of food.
This information can be used to make informed decisions about menu pricing, portion sizes, and other factors that affect a restaurant's bottom line.
With Jalebi's restaurant operating system, restaurants can streamline their suppliers with our CRM and simplify ordering and restocking.
If you are a restaurant owner or manager, we urge you to try Jalebi for yourself. You will be amazed at how much it can improve your business!
Contact us today for more details and information.
2- Toast
Toast is one of the best software for restaurant management. It's an all-in-one system that streamlines operations, improves guest satisfaction, and helps increase profits.
Features
Point-of-sale
Kitchen display system
Self-ordering kiosk
What's more, Toast integrates with popular software programs like QuickBooks and Square to make running your restaurant even easier.
If you're looking for a POS system that will help take your business to the next level, Toast is one of the best software for restaurant operations management.
3- TouchBistro
If you own a restaurant, then you know how important it is to have a good kitchen management system in place.
TouchBistro is one of the best software options out there for managing your restaurant kitchen.
Features
POS
Kitchen display system
Customer-facing display
It's designed specifically for restaurants, so it has all the features you need to keep track of your inventory, menu items, and staff.
Moreover, TouchBistro is also very reasonably priced, so it is a great option for small to medium-sized restaurants.
4- HungerRush
If you're looking for software that can help you manage your restaurant kitchen and increase efficiency, HungerRush can be your answer.
With its powerful features and easy-to-use interface, HungerRush is the perfect tool for any restaurant owner or manager.
Features
Employee management
Order tracking and dispatch
From tracking inventory and orders to managing staff schedules, HungerRush does it all. And because it's web-based, you can access your account from anywhere, anytime.
So why wait? Try HungerRush today and see how it can help your business thrive.
5- Zenput
Are you on the lookout for a kitchen management platform to streamline your operations? Zenput is one of the best options on the market that can take your growth to the next level.
With its all-in-one platform, Zenput is ideal for busy restaurants that want to simplify their operations.
Features
Marketing and promotion
Brand standards management
Food safety
In short, it's a comprehensive tool that can make a big difference in how your restaurant runs.
So if you're looking for a way to improve your restaurant's efficiency and bottom line, Zenput is definitely worth considering.
6- Micros
Micros is one of the leading software systems for managing restaurant kitchens.
It's designed to help you streamline operations, increase efficiency, and improve communication between front-of-house and back-of-house staff.
In addition, Micros provides comprehensive reporting capabilities so you can track your progress and identify areas needing improvement.
Features
Kitchen display system
Loyalty programs
If you're looking for a way to take your restaurant to the next level, then look no further than Micros.
It's the perfect solution for increasing efficiency in your kitchen and improving the overall dining experience for your customers.
Final Thoughts
Kitchen management software has become an essential tool for restaurants looking to improve their efficiency and streamline their operations.
With so many options available, it can be overwhelming to choose the right software for your business.
However, the top six kitchen management software reviewed in this article offer a range of features to suit different types of restaurants, from inventory management to online ordering and loyalty programs.
Around 10% of food goes to waste in restaurants before even hitting the plates.
By adopting the right software, restaurants can increase their profitability, reduce waste, and provide a better experience for their customers.
It is important to carefully evaluate the needs of your business and the features offered by each software before making a decision.
Frequently Asked Questions
How do I choose the right kitchen management software for my business?
When choosing a kitchen management solution, it is important to evaluate your specific business needs and the features offered by each software.
Look for software that is user-friendly, integrates well with your existing systems, and offers a range of features to help you optimize your operations.
What is ERP in restaurant management?
ERP in restaurant management is a comprehensive and integrated software solution that helps businesses manage all aspects of their operations, from customer relations to financials.
It offers a real-time view of the entire business, allowing managers to make informed decisions and take immediate action to improve efficiency and profitability.
It gives businesses a complete picture of their operations, customers, and finances in one central location.
What are some examples of ERP?
There are many different examples of ERP systems out there. Some popular ones include Microsoft Dynamics, SAP, and Oracle.
Each of these providers offers different features and benefits. For instance, Microsoft Dynamics is known for its ease of use and flexibility, while SAP is known for its comprehensive suite of enterprise-level tools. Oracle, on the other hand, offers a variety of options depending on business needs.