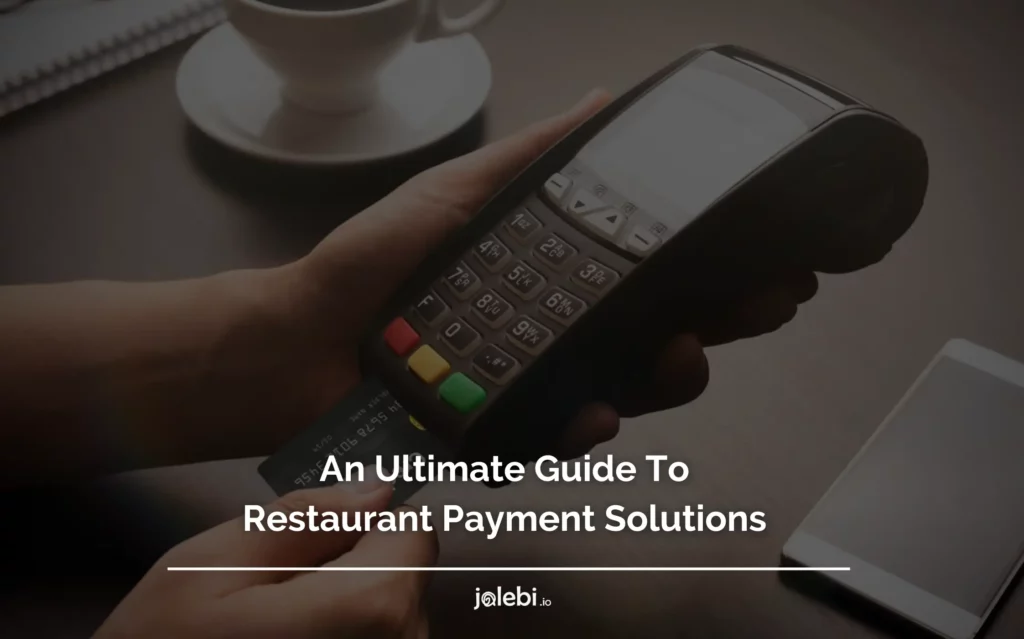 According to Retail Consulting Partner, in 2020, 9% of retailers prioritized omnichannel capabilities while 52% wanted to enhance their POS systems
In today's fast-paced and highly competitive restaurant industry, providing customers with a seamless and convenient payment experience is essential for success.
With the increasing use of technology and mobile devices, restaurant owners and managers are looking for ways to streamline their payment processes and improve customer satisfaction.
From traditional restaurant payment solutions to mobile payments and digital wallets, there are a variety of restaurant payment solutions available to meet the diverse needs of modern restaurants.
In this ultimate guide, we will explore the different types of restaurant payment solutions, their benefits, and how to choose the right solution for your business.
Whether you're a small independent restaurant or a large chain, this guide will provide you with the information you need to make informed decisions about your payment processing needs.
What Is A Restaurant Payment Solution?
A restaurant payment solution is a system that helps streamline the process of accepting and managing payments for restaurants. 
This can include point-of-sale (POS) systems, online ordering platforms, and mobile apps which streamline payment processing for restaurants.
The goal of a payment solution is to provide a secure and convenient way for customers to pay for their meals, while also streamlining payment processing for restaurants.
The Benefits Of Restaurant Payments Systems
As technology continues to advance, customers are increasingly expecting faster, more convenient payment options, and restaurants are turning to payment systems to meet these demands.
Beyond just meeting customer expectations, however, restaurant payment systems can provide a range of benefits for both restaurants and their patrons.
Here are some of the benefits that will help you understand why your restaurant should opt for a restaurant payment processing system.
1- Increased Efficiency
Payment processing solutions can significantly reduce the time it takes for customers to pay their bills. This means that restaurants can serve more customers in less time, ultimately increasing revenue.
2- Improved Customer Satisfaction 
Payment processing solutions can offer a variety of payment options, including mobile payments and credit card payments, which are becoming increasingly popular among consumers.
Providing customers with multiple payment options rather than only cash payment options can enhance their overall dining experience and improve satisfaction.
3- Streamlined Accounting
Payment processing systems can help automate the payment reconciliation process, making it easier for restaurant owners and managers to manage their finances and track sales.
4- Enhanced Security
Payment processing platforms offer enhanced security features such as tokenization and encryption, which can help protect customer payment information from fraud and theft.
5- Access To Data And Analytics 
Restaurant payment solutions can provide valuable insights into customer behavior and sales trends, which can help restaurants make more informed decisions about their operations.
Overall, payment processing solutions can help restaurants increase efficiency, improve customer satisfaction, and ultimately drive revenue growth.
Top Payment Processing Solutions For Restaurants In 2023
As we move into 2023, there are many payment processing solutions available to restaurants.
Here are some of the top solutions to consider:
1- jalebi
If you're looking for a platform to optimize your restaurant's payment processes, jalebi is the perfect solution for you.
With jalebi, you can streamline your restaurant payment processing, reduce costs, and improve customer experience.
The system is designed to streamline the restaurant experience by allowing customers to pay for their meals conveniently.
Features
jalebi's restaurant operating system provides restaurants with insightful reports on the true cost of food. 
This information can help restaurants make informed decisions about menu pricing and portion sizes.
Real-Time Inventory Tracking
We enable restaurants to integrate their inventory with the menus so that they can make their decisions based on consumption and preferences.
If you're a restaurant owner, then you know how important it is to have a restaurant POS system that can help you run your business smoothly.
jalebi's restaurant operating system is designed to help restaurants through its POS integration. 
This means that restaurants can use jalebi to manage their finances, inventory, and customers all in one place.
Jalebi offers a fast and convenient way to enable your customers to pay for their meals, and it's also secure and easy to use.
Plus, our powerful analytics tools will help you track your performance and identify areas of improvement.
So why wait? Contact us today and take your restaurant to the next level!
2- Square
Are you a restaurant owner looking for a new operating system? If so, you may want to consider Square.
Square is a restaurant operating system that enables restaurants to process their payments conveniently.
Square offers a range of payment processing solutions for restaurants, including Res systems and mobile payment options.
Features
Offline payment processing
Chargeback management
Major credit card payment acceptance
Square's software is user-friendly and customizable, allowing restaurants to easily manage payments and sales data.
3- Toast
Toast is an all-in-one solution that helps restaurants streamline their operations and improve their bottom line.
It is a comprehensive restaurant management platform that includes payment processing, online ordering, and customer engagement tools.
Features
Secure payment processing
Transparent pricing
Offline payment acceptance
Toast offers a range of hardware options and integrates with popular third-party apps and services.
4- Lightspeed
If you're looking for a way to manage your restaurant payments, Lightspeed can be one of the best options in the market. 
With its easy-to-use interface and powerful features, Lightspeed is a great choice for any restaurant owner. Plus, its affordable price makes it a great value for your money.
Features
Manual entry elimination
Credit card, debit card, and mobile payments
PCI compliance
Lightspeed's software is highly customizable, making it a good fit for restaurants of all sizes.
5- Clover
If you're a restaurant owner, you know that streamlining your payment processes is essential to keeping your business running smoothly. That's where Clover comes in. 
Clover is a platform that enables restaurants to streamline their payment processes, so you can focus on what's important – running your business!
Features
Card reader
Restaurant POS system
Online order processing
As Clover is cloud-based, you can access your information from anywhere, so you can always stay on top of your game.
So why wait? Sign up for Clover today and take your restaurant to the next level!
6- Shopify
Shopify is best known for its e-commerce platform, but it also offers a point-of-sale system that includes payment processing and inventory management tools. 
This system is ideal for restaurants that want to streamline their operations and make their customers' shopping experience as seamless as possible.
Features
Credit and debit card payment
Wallet payment processing
Multiple subscription models
Shopify's software is user-friendly and can be customized to meet the needs of individual restaurants.
How To Choose The Right Restaurant Payment Solution?
Choosing the right restaurant payment solution can be a challenging task, but it's essential to select a solution that meets the specific needs of your restaurant.
Here are some key factors to consider when choosing a restaurant payment solution:
Payment Processing Capabilities
Make sure the payment solution you choose can process a variety of payment types, including credit cards, debit cards, mobile payments, and gift cards.
You should also consider whether the solution can process payments offline in case of internet connectivity issues.
Compatibility With Your Hardware And Software
Ensure that the payment solution you choose is compatible with your existing point-of-sale system, accounting software, and hardware such as credit card readers and printers.
Security Features
Look for a payment solution that offers advanced security features such as encryption, tokenization, and fraud detection to protect customer data and prevent unauthorized access.
Final Thoughts
Overall, there are many payment processing solutions available to restaurants in 2023.
When choosing a solution, it's important to consider factors such as cost, ease of use, and compatibility with other software and hardware.
By selecting the right payment processing solution, restaurants can streamline their operations and provide a better overall dining experience for their customers.
[bannerb]
Frequently Asked Questions
Why do customers avoid paying in cash at restaurants?
There are a few reasons why customers might avoid paying in cash at restaurants. For one, it can be a hassle to carry around a lot of cash, especially if you're dining out with a group of people.
Additionally, some people may feel uncomfortable or even unsafe carrying large amounts of cash with them.
Another reason customers might avoid paying in cash is that it can be more difficult to track expenses when you're using cash.
It's easier to keep track of spending when you use a credit or debit card, which can help you stay on budget.
What is the fastest way to pay in restaurants?
There are a few different ways to pay in restaurants, but the fastest way is definitely with a credit or debit card.
You can simply swipe your card and be on your way without having to count out cash or wait for change.
Another fast option is to use a mobile payment system like Apple Pay or Google Pay.
With these systems, you just hold your phone up to the terminal and your payment will go through instantly.
How do you pay with a restaurant credit card?
Paying with a restaurant credit card is easy and convenient. You can use your card to pay for your meal at any time, and you don't have to worry about carrying cash or making a change.
Plus, paying with a restaurant credit card allows you to earn rewards like cash back or free meals.
To pay with a restaurant credit card, simply present your card to the waiter or waitress when you're ready to pay.
They will run your card through the machine and process the payment. It's that easy!