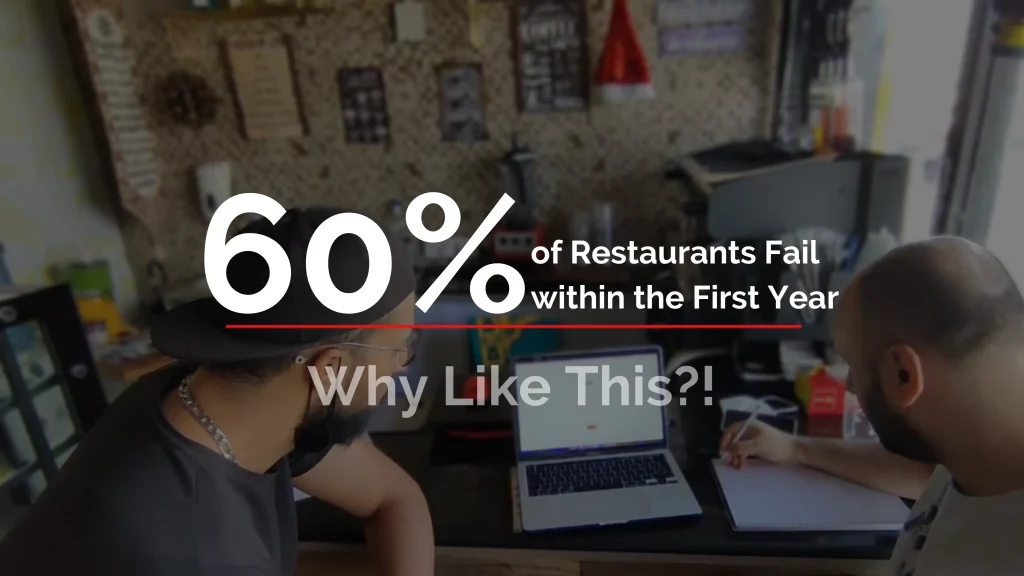 A question that has been plaguing the industry from the very beginning. A restaurant's success rate is estimated at 20% by the National Restaurant Association.
According to a study published by Ohio State University, later published by CNBC, stated that ~60% of restaurants fail in their first year, and within five years, 80% of those remaining do not survive.
This was reinforced by another study by Yelp.com following COVID-19, stating 60% of restaurants temporarily shutting down are unlikely to reopen.
Some say it's because of the nature of the business; others claim it's because of an oversaturated market.
A combination of ingredients comes into play to answer 'why do restaurants fail.' Moreover, the restaurant industry is notoriously competitive, and many newcomers underestimate the sweat that goes into sustaining the business.
And while not all restaurants are destined for success, the opportunity to open a restaurant is exciting no matter how you approach it.
Great food and excellent customer engagement will go a long way to guaranteeing your seats are always full.
But as the industry and times are revolutionizing, operational efficiency, product variety, and consumer habits are bound to determine success and failure.
The sweeping economic problems will always be inescapable, but your reaction to them can make a profound impact.
Let's look at some of the most common factors that contribute to the closure of restaurants.
1. A Narrow Profit-Margin Squeeze
Approximately one-third of a restaurant's revenue is allocated to the cost of goods sold (COGS). Another third to labor expenses, and the remaining for overhead expenses, such as rent, utilities, licensing, taxation, marketing, partnerships, etc.
If COGS, labor, and overhead expenses are paid, the remaining profit is the company's to keep. Restaurant owners typically profit between 2% and 6% on average.
It's a razor-thin balance between marginal income and cost sensitivity. So, menu pricing and food costs become key elements of restaurant profitability.
Every menu item's price needs to cover the restaurant's expenses to turn a profit. To achieve this, we would need to get some numbers crunching.
Recalculate food cost variance vs. actual simultaneously, so you capture the smallest changes as quickly as possible.
Going back to the story of Mo, here's a question to reflect on; during a busy day while Mo is running around orders, would he be able to achieve the math above accurately without technology? And then keep track of it across all channels?
Not likely, so let's discuss further how sketchy knowledge of those numbers causes a brunt on the restaurant's inventory and eventual financial health.
2. Young and Vulnerable
Those fancy shops attracting high foot traffic in the cool parts of town don't come without a price tag. A restaurant's life cycle is just like every other business.
There's always the chance of setbacks. It's no surprise that the highest number of businesses that close down are fairly young because they often lack the experience to navigate in the restaurant industry.
A business's long-term survival depends on profits and profitable operations.
Another common reason that often comes along to light on why small businesses are a target is the lack of resources or flexibility of re-adjusting.
And when we say 'flexibility of re-adjusting,' it is to say the openness to embrace useful food technology.
In simpler terms, we can say that the vulnerability of a young restaurant is not very different from other startups in other industries. As a matter of fact, the restaurant business is highly prosperous and profitable. So don't be discouraged.
Therefore, to reiterate, according to a recent article by Forbes, smaller restaurants with fewer employees tend to fail more often than larger ones.
This leads us to our next point of how some also have to bend to balance the predicament of profit and margin.
3. Blindfolded by Inadequate Knowledge
Inadequate knowledge is one of the most commonly repeated restaurant inventory mistakes.
Menu creation, recipe costing, and inventory orders are typically handled by owners and executive chefs. They are the only ones who can execute it all blindfolded.
As a result, line chefs, junior chefs, and assistants tend to make small mistakes in these areas, which can lead to a build-up of serious inventory issues in the restaurant.
4. A word on inventory management for multi-unit businesses
Accurate portioning of ingredients cannot be understated if you operate several locations. Senior chefs can't be everywhere at once, so they need local staff to ensure that every single dish is executed perfectly.
The reasons are twofold:
Maintaining Consistency: A consistent dish is a key to customer loyalty. It increases the brand's reliability, leading to satisfied customers at every step. After all, in the restaurant industry, potato/potahto surely makes all the difference.
Keeping Targets: Margins in the restaurant industry are already slim, so you want to ensure your locations aren't overspending, turning a potentially profitable dish into a dish that barely breaks even.
The profitability of your restaurant is determined not only by how well you manage your kitchen operation. It's a two-way street where one street is your inventory and the other, well, wherever you're stuck at.
5. Slacking Numbers With Unreliable Data
Accurate stock counts are the foundation of any efficient and profitable food business. It's also one of the biggest inventory problems for restaurants.
Think about our friend Mo's team, who just finished a 12-hour shift, and now they have to count stock for an hour before they can head home.
Squeezed for time, how long will it take before they begin shooting lucky shots? Or will they simply follow last week's ordering lists?
While the team's desire to outperform is not an issue, cutting corners where they shouldn't cut can hike food costs.
Accurate ordering can become a grueling task/nuisance if the operator isn't working with the correct stock numbers. Leading to negative outcomes and wastage of time, with a severe implication of cost.
6. Overcomplicated Inventory Silos
Inventory management for multiple-unit restaurants is another dilemma altogether. A daily hassle of monitoring orders, keeping an eye on inventory, and comparing the data for each location.
A single restaurant location is rife with inventory issues and challenges. But it pales in comparison to running a large business with many units spread throughout the city.
Multiple-unit restaurant inventory management is tricky because each location has its inventory silos.
It is complex enough to track central ordering, let alone analyze how multiple locations use inventory, and get actionable insights from comparing that data.
Having two similar but distinct systems in place is difficult to juggle unless one uses an inventory management tool to provide a performance overview for each unit.
7. Foreseeing Innovation Without an Integrated System
Now that we have looked at two of the most important structures of a restaurant let's discuss another roadblock that often holds a restaurant back from succeeding.
Based on extensive and educational learnings from over 150 restaurant owners and operators across multiple high-volume markets, we extrapolated the need for systems integration as a top challenge.
What makes integration such an issue in times when APIs are allegedly more open than ever and synchronizing systems with cloud technology should be easier in theory?
Technology stacks are becoming increasingly complex, so many elements have to be looked at. As customers expect – and demand – more purchase paths, restaurant owners have a need for more and more capabilities to bolt-on.
Technology is changing at an unprecedented pace, and for restaurants, it can be challenging to make investments that will not only be beneficial today but also tomorrow.
With that being said, it's safe to say that a restaurant's long-term viability further relies on added features and functionality when needed.
8. Agile Operating Model
To be able to make the most of new opportunities and limit damage requires nothing more than agility. Not having an agile operating model in a post-COVID time is what often becomes the red flag for restaurant operations.
For a restaurant owner, what can it mean? Adaptability and flexibility are the characteristics that can shape agility in your world.
Agility can help you deal with three critical factors at any breaking point:
Resilience: Aligning goals, strategies, and priorities makes it easier for teams to work independently, improving resilience. 
Efficiency: Connecting teams with business goals and reducing handoffs improves efficiency. PS. Efficiency is jalebi.io's favorite word and goal. 
Speed: Streamlined decision-making will let operators respond quickly to new circumstances.
With agile management practices at your fingertips, you can level the playing field and move ahead with winning tactics.
Going back to efficiency, resilience, and speed – three key ingredients of jalebi.io – why are we more focused on creating a robust recipe with these ingredients? And what are the results showing?
Sweeten Your Kitchen with jalebi
Here's why. One of the many things that we learned from 2020 is the importance of adaptability.
Adaptability and efficiency together make up jalebi.io's equation.
In the surging $3 trillion global food industry, jalebi.io emerges as a B2B company that transforms rudimentary and inefficient processes plaguing the industry for at least 4 decades.
Reimagining the way technology works for a commercial food business, the team at jalebi.io took painstaking steps. Seeking and working with critical and operational food business owners across multiple high-volume markets to understand how, if at all, to re-engineer technology supporting their processes.
A centralized inventory management system was developed together with keen restaurant owners to optimize supply chain management, recipes, menus, and orders to reduce the cost of food service.
Continuing what we mentioned above, 'accurate proportioning.'
What's integration without a point-of-sale (POS) system? It's a central hub for data collection.
Knowing how crucially important this principle is for jalebi.io, therefore, our technology is complete with a POS system, that will help the ongoing struggle by:
Offering timely and critical insights, based on the monthly data on what the running food cost should be, in real-time.
Identify key friction points across the operation, from managing supplier prices to reordering cycles to consumption patterns to profitable and successful menu creations.
Help contain food wastage, almost completely.
You need a restaurant inventory system that does more than handle daily transactions, order punching, and general operations. Our modern platform wants to become the single most crucial piece of technology in your restaurant.
jalebi.io is here to be your guard on what you should and shouldn't be spending on.
But hold on, that's not all.
A quick wrap-up of jalebi.io's sweetness in four major points
With its robust integration-friendly approach, here's what our complete solution has to offer:
A food business' lifeline is the ability to save on inventory costs. jalebi.io accomplishes this through complete backend control by reducing inventory costs and improving visibility across the value chain. Therefore, the management of inventory is critical for your business's success.
Depending on the type of inventory, saving 2% – 6% can help from making holes in your budget (and pocket too)! By this measure, jalebi enables restaurants to save at least 5% on food costs, boost revenue, and eliminate waste and theft. The minimum benchmark is a cumulative annual return of 60%!
jalebi.io serves as a unified platform that helps streamline operations, from the moment inventory gets stocked up to that last bite of your day.
jalebi's inventory management tool will let you manage the entire operation through a simplified, modular cloud platform without pre-existing knowledge or experience.
With the combined team effort, the product has shown an 86% conversion rate and is already proving its impact on over 150 customers. jalebi.io can show how to value the debt of a promise.
What makes an experience truly memorable?
Transparency. Efficiency. Control.
As a restaurant owner, you can stand out by understanding the customer journey. And behind the curtain, a robust system in hand that operates seamlessly from inventory to integration to income. That's why we say, do what you do the best and let jalebi do back-of-the-house work.
Why do restaurants fail?
Does it really take a Swiss Army knife-style combination of skills to run a restaurant? Not really. We can't guarantee the food taste, but we can roll the dice by assuring guaranteed results with an upgraded restaurant inventory management system, built for a post-COVID era, where diversification in operations is now key to surviving and an agile tool to grow with.
The combined strengths of jalebi's continuous expert deep dives, non-stop customer discovery, and relentless pursuit for advancing product-market fit can liberate you from the painful loopholes of restaurant failure.
Concluding Remarks on Why do Restaurants Fail?
We know that running a restaurant business puts a lot on anyone's plate. But is it just about going with the flow or is the ambition there for successfully running a business?
Coming back to this burning question: why do restaurants fail? While there would be many theories on the other side, what we're focused on is providing a one-stop modular and easy solution to address those collective pain points for restaurant owners.
Does this sound too good to be true? Take jalebi.io on a test drive by joining our waitlist for a demo.
With each finding, we are devoted to bringing you the best of our results on the table.
Are you hooked on Mo's story yet? Keep following jalebi to learn more insights, as we are on the same journey as you to get to the bottom of this.
Meanwhile, here's a virtual jalebi if you enjoyed reading our first from 'The Syrup' blog series by jalebi.io!
[greeting]