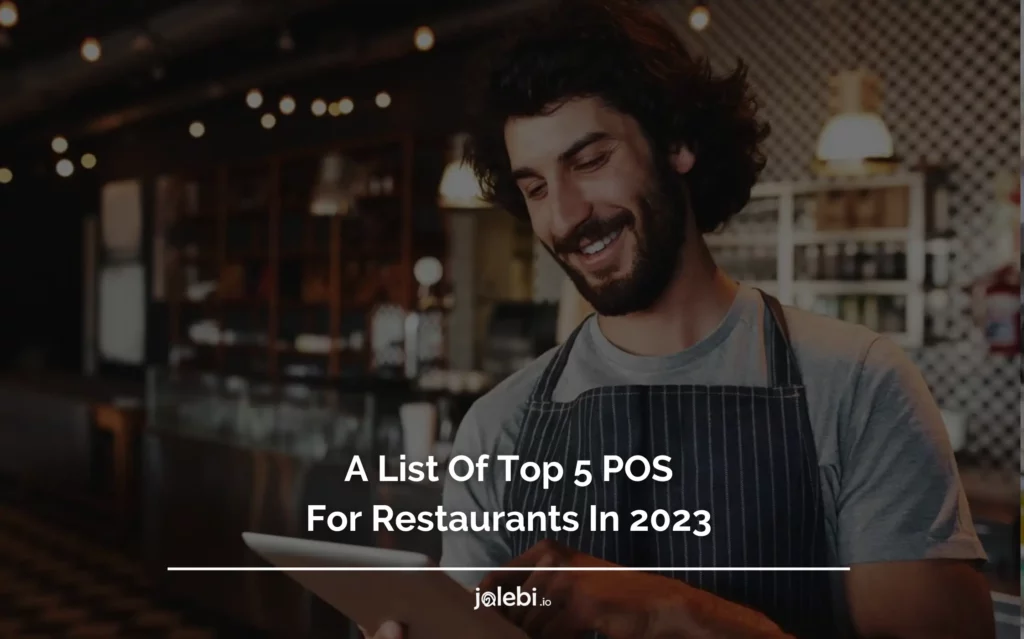 Around 50% of people dine out more than once every week which means that the restaurant industry is going through a boom.
The restaurant industry is constantly evolving, and technology has played a vital role in its transformation.
With the advent of POS for restaurants, restaurant owners have been able to streamline their operations, enhance customer experiences, and boost sales.
In today's competitive market, choosing the right POS for restaurants can make all the difference.
That's why we've compiled a comprehensive list of the top five POS for restaurants in 2023.
Our list includes traditional systems, as well as cloud-based options, and covers a range of features, and overall value.
Whether you're a small, independent restaurant or a large chain, there's a POS system on this list that's perfect for your needs.
We've taken the time to carefully evaluate each system, looking at factors such as ease of use, inventory management, customer engagement, and security.
So, if you're looking for the best POS system to help take your restaurant to the next level, read on!
What Is A Point Of Sale System?
A Point of Sale (POS) System is a computerized system used by businesses to manage transactions, including sales, returns, and exchanges.
It typically includes hardware, such as a cash register and barcode scanner, as well as software that tracks inventory and generates reports.
POS systems are commonly used in retail stores, restaurants, and other businesses that handle transactions with customers.
The system calculates the total cost of the sale, and the customer can pay using various payment methods, including cash, credit or debit card, or mobile payment.
Overall, a POS system helps businesses manage transactions, track inventory, and generate reports.
The Importance Of POS Software For Restaurants
Around 80% of restaurant owners leverages some kind of technology to streamline their
In the modern restaurant industry, POS software for restaurants has become an essential tool for restaurant owners and managers.
From increased efficiency to improved customer service, we'll dive into how POS software for restaurants can help restaurants thrive in today's competitive market.
Streamlined Operations
A POS software system can automate tasks such as order taking, management of inventory, and employee scheduling, allowing restaurant staff to focus on delivering exceptional service to customers.
Increased Efficiency
With a POS software system, restaurants can process transactions quickly and accurately, reducing the risk of errors and delays.
This can lead to faster service and shorter wait times for customers, resulting in higher levels of satisfaction and increased revenue.
Valuable Insights
POS software systems can generate detailed reports on sales, inventory, and customer behavior, providing restaurant owners and managers with valuable insights into business performance.
Such insightful information can be used to make data-driven decisions and improve overall operations.
Enhanced Customer Service
With a POS software system, restaurants can provide a more personalized and efficient customer experience.
For example, staff can easily access customer order history and preferences, allowing them to make recommendations and tailor service to individual needs.
Top Five POS For Restaurants That Every Restaurateur Should Know About
In the highly competitive world of restaurants, a reliable POS for restaurants can make all the difference.
With technology advancing at a rapid pace, it can be challenging to determine which POS system is the best fit for your restaurant.
That's why we've done the research and compiled a list of the top five POS systems in 2023. Whether you're a small business or a large chain, this list has something for everyone.
So, let's dive in and discover which POS system can take your restaurant to the next level.
1- jalebi
Running a restaurant can be a challenging task, especially when it comes to managing inventory and sales.
That's where jalebi comes in – a revolutionary solution designed to streamline restaurant operations.
With an inventory-first approach and an integrated POS system, Jalebi makes it easy to keep track of your stock and sales.
No more worrying about stock-outs or overstocks – jalebi's real-time inventory tracking lets you stay on top of your supplies at all times
Features
Single Location Account Management
With jalebi, you'll be able to manage all of your accounts from one central location.
This means that you won't have to waste time logging into multiple different accounts or keeping track of multiple passwords.
At jalebi, you can easily track and manage orders from start to finish, meaning you'll never have to worry about lost or forgotten orders again.
Inventory Management System
We enable restaurants to integrate their restaurant inventory with the menu to keep track of inventory in real time and avoid stockouts through our efficient platform.
Whether you're a small business owner or a large chain, jalebi can help you optimize your operations and take your restaurant to the next level.
Say goodbye to the headaches of restaurant management and hello to the simplicity and efficiency of jalebi.
Contact us today to see how our POS restaurant software can help you streamline your restaurant operations and take your growth to the next level.
2- Toast
Toast is a cloud-based restaurant POS system designed specifically for the restaurant industry.
With Toast, you can streamline your operations, improve your customer service, and boost your bottom line.
Features
Kitchen display system
Self-ordering kiosk
Multi-location management
Additionally, Toast's integration with popular delivery services such as GrubHub, UberEats, and DoorDash allows restaurants to easily manage orders from multiple platforms.
So, if you're looking for restaurant POS software, do check out Toast.
3- TouchBistro
TouchBistro is an all-in-one restaurant management system that makes it easy to run your business, whether you're a small mom-and-pop shop or a large chain.
Features
Table management
IMS
Reporting and analytics
As it's cloud-based, you can access your data from anywhere, at any time.
TouchBistro is one of the leading solutions for busy restaurants that want to streamline their operations and make their lives easier.
4- Clover
If you're looking for POS software that's ideal for quick-service restaurants, Clover is a perfect choice.
Clover helps to streamline the ordering process and make it easy for customers to get their food quickly.
Features
In-person and online payment processing
Online ordering
Digital invoicing
IMS
With Clover, you'll be able to provide an exceptional experience for your customers and keep your business running efficiently.
5- Lightspeed
If you're looking for a comprehensive POS solution for your restaurant business, you'll want to consider Lightspeed.
With its all-in-one system, Lightspeed can streamline your operations and help you take your business to the next level.
From inventory management to customer loyalty programs, Lightspeed has the features you need to run your restaurant more efficiently and effectively.
Features
Menu management
Offline mode
Access to retail analytics
And because it's cloud-based, you can access your data from anywhere, at any time. So why wait? Give Lightspeed a try today and see how it can help your business thrive.
How To Choose The Right POS For Your Restaurant?
Choosing the right POS system for your restaurant is a crucial decision that can impact your business operations and profitability.
Here are some key factors to consider when choosing the right POS for your restaurant:
Business Type and Size
Determine the type and size of your restaurant, the number of locations, and the expected volume of sales.
Features and Functionality
Look for a POS system that offers the features and functionality that are important to your restaurant, such as inventory management, menu customization, online ordering, and reporting.
Integrations
Consider the POS system's integration capabilities with third-party applications, such as accounting software, payroll, and loyalty programs.
Final Thoughts
A high-quality POS system can be a game-changer for restaurants in 2023 and beyond.
Whether you're a small business owner or a large chain, choosing the right POS system is a critical decision that can impact your bottom line.
So why wait? Take the first step today. Once you're done exploring the top 5 POS systems for restaurants in 2023, finding the perfect solution to take your restaurant to the next level won't be a hassle.
Frequently Asked Questions
How does POS software help in materials control for restaurants?
POS software can greatly aid in materials control for restaurants by providing real-time inventory management and tracking.
With a POS system in place, restaurant owners and managers can easily track and monitor inventory levels, including ingredients and supplies, and receive automated alerts when stock levels are running low.
This helps in materials control and reduces costs by ensuring that only the necessary items are ordered and used.
Is POS profitable?
POS (Point of Sale) systems can be profitable for restaurants and other businesses, as they offer a range of benefits that can help to increase revenue and reduce costs.
By streamlining operations and providing real-time data on sales and inventory, POS systems can help restaurants to make informed decisions about pricing, menu planning, and purchasing, leading to increased efficiency and profitability.
Additionally, POS systems can help to reduce errors in order taking and payment processing, minimizing the risk of losses due to incorrect orders or fraudulent activities.
Can I use my phone as a POS system?
Yes, you can use your phone as a POS (Point of Sale) system with the help of mobile POS apps or card readers.
Many businesses, especially small and mobile businesses, use smartphones and tablets as a cost-effective alternative to traditional POS systems.
Some popular mobile POS apps and card readers include Square, PayPal Here, and SumUp.
These solutions offer a range of features, such as inventory management, sales analytics, and invoicing, which can help to streamline your business operations and improve the customer experience.
However, it's important to ensure that your mobile device meets the security standards required to process payments and protect your customers' sensitive information.